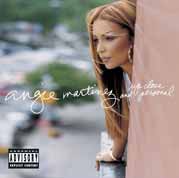 Angie Martinez :: Up Close and Personal

Label: Elektra Records
Author: Steve 'Flash' Juon


One of the hottest MP3's traded around the internet last year was the unreleased duet "Mi Amor" between Angie Martinez and Jay-Z. Angie had prevoiusly blessed the mic on Lil' Kim's "Ladies Night" as the self-described "butter P honey" with a performance that while not mind blowing wasn't an embarassment either.
In fact she has nothing to be ashamed of whatsoever. While Jennifer Lopez may have the billion dollar ass and the big feature films, Ms. Martinez has quietly solidified her rep as the kind of woman LL Cool J referred to as an "Around the Way Girl." As a regular on the airwaves of Hot 97 Martinez has a seductive voice that draws in large audiences and real life dimepiece good looks to go with it. Her most appealing asset is her unabashed love for hip-hop though, as evidenced by an album of nothing but rap music on "Up Close and Personal." Since she's got sex appeal it would be easy to see the label trying to flip and suddenly turn her R&B singer, but Martinez ain't having that.
In fact, the singing is left strictly to the professionals. The Product G&B do some soulful crooning on "Every Little Girl", while their executive producer Wyclef Jean does his thing on both the original and hip-hop version of "Coast 2 Coast (Suavemente)." The latter is a shameless party banger including the sentiment "funny how time flies when you gettin drunk" but the former has a surprisingly deft touch by Martinez as she tells a personal tale of struggling to succeed against the odds and fighting against viciously hateful rumors.
"Overall, it's a rough business, it could stop even you
There's people that's gonna say things that's not even true
Like the one about me not bein down for my women
And I hated the lesbian rumors that went around for a minute
How bout the one that goes, 'Yeah, she goes with him.
He bought her the car, the ice, the clothes and rims.'
And I'm sure you all heard she caught one dead in the face
It'd been different if she said what she said to my face"
People out there probably have low expectations from what they think of as strictly a "radio personality" turning in a rap album, but with an open mind you can be repeatedly surprised here. Martinez respect for the hip-hop arts obviously keeps her from turning in a half-assed performance that could have gotten over just on the strength of her name. Most of the songs are meant to rock a function and as such don't need to be "Dopest Rhyme of the Month" - just to ride the beat and set the mood which she does and more. That makes songs like "Ladies & Gents" with Snoop Dogg and "Dem Thangz" with Q-Tip perfect for whipping the ride or getting your dance on.
The best surprise of all though may be the strictly underground banger "Live From the Streets." This all-star slinks along a dirty funk beat that sounds tailor-made for Kool G. Rap - no surprise then that he caps the dramatic finale of the song! The other cameo verses by Styles, Jadakiss, Beanie Sigel and newcomer Brett are all tight and fit the ruggedness nicely. The cut "Thug Love" is a grimy duet with Fat Joe and Layzie Bone too, but with a super smooth beat it has a higher chance of crossing over. Angie Martinez again displays the personal touch that makes her songs authentic - while she could have just turned in a cliched rap about needing a "thug in her life" she ups the ante and breaks down why thugs are so attractive to her:
"I just can't explain why women are attracted to danger
A thug and a player look the same in linen but one's packin a banger
I guess it's the anger that be in they eyes
mixed together with a pinch of they sensual side that gets me energized
Fly and confidant, respected and highly dominant
Got me on the rise every time he draw me with compliments
Joey I'm fallin for a thug, should I sacrifice
or let it go brother you never gave me bad advice"
There are too many good things going on here to be mad at this album. The spicy salsa of "Live at Jimmy's" with the Terror Squad (yes, even including Big Pun) and the the smooth club groove of "No Playaz" with Lil' Mo and Tony Sunshine (an early favorite for the next single) are just two of the many. The mistakes here are small and forgiveable: DJ Clue's appearance on "New York, New York" (somebody SHUT him up) and a rather unimpressive performance by the normally stellar Mary J. Blige on "Breathe" are about as bad as it gets. The only song that's really perplexing is "Go!! (Muthafuka)" where Angie tries to kick the superfast "triple-rhyme" style - it's just getting played to hear everyone try it and the beat is so generic it really holds no weight.
If you weren't really checking for Angie Martinez or figured that because she was a Hot 97 personality she didn't know what rap was really all about, you'll be shocked by this album either way. It's not mind-expanding or revolutionary, but it is a very solid debut album that is a welcome addition to the diversity of hip-hop. Ms. J-Lo may have the better known ass and more RIAA plaques but Ms. Martinez could be the first latina RAPPING to go gold. Do your thang Angie!
Music Vibes: 8 of 10 Lyric Vibes: 7 of 10 TOTAL Vibes: 7.5 of 10
Originally posted: April 17, 2001
source: www.RapReviews.com