Statik Selektah & Termanology :: 1982
:: Brick Records
as reviewed by Pete T.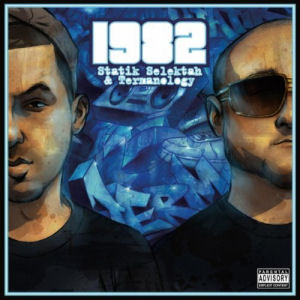 I can't claim too many good memories of 1982. In that Year of Our Lord my dear parents were about the age I am writing this and still years away from meeting. I don't imagine that Statik Selektah and Termanology have too many fond recollections of that year either, one they both spent a good portion of in the womb. Sure, they'll tell you it was a good year—the year of Air Force Ones, "Wild Style," and "Thriller"—but it was also a year that saw Reaganomic policies and foreign affairs that probably contributed, either indirectly or directly, to the decline of their hometown Lawrence, Massachusetts, a former industrial hub on the Merrimack River. Perhaps even reasons that Term cites guns and murder in his dream diary "Things I Dream," recalls coke pushing on "The Street Life," and claims "there's no such thing as equal opportunity" on "The Hood Is on Fire."
Statik and Term are out to be the next great producer/rapper duo in the tradition of Gang Starr, Kool G Rap & DJ Polo, and Pete Rock & C.L. Smooth with "1982," and quite frankly it's surprising it didn't happen sooner. Term's been turning heads for years now with his celebrated mixtape series which culminated in his 2008 debut full-length "Politics as Usual," featuring production from Pete Rock, DJ Premier, and Large Professor. From a distance, one might think Statik Selektah was an underground version of DJ Khaled: a light-skinned, heavyset DJ with big sunglasses and a radio show who releases compilation albums uniting hip hop's biggest and brightest. Heck, give him a few days in the sun and I'm willing to bet he'd even look like Khaled. If you've perchance stumbled upon any of his acclaimed compilation records over the last few years, however, you know Statik to be a masterful producer, a champion of the classic East Coast sound carrying the torch for Boston's rich hip hop tradition. His rare polish and precision sets him miles apart from his contemporaries, and it's no coincidence that he attracts the likes of Bun B, Talib Kweli, Freeway, and just about anybody in between to spit on his beats—Statik's sweet, soulful production is enough to make anybody feel nostalgic.
"1982" is heavy with nostalgia, with shouts to Term's hip hop heroes in the first minute of the opener "The World Renown." Tracks such as "Going Back" with Xzibit and Cassidy and "The Radio" fondly reminisce over the mediums of yesteryear, matched perfectly by Statik's tasteful keys and bright horns. Term shows marked progression from his punchline-centered approach, sporting more focused verses and impressing as a particularly visual rapper, whether he's chopping up grams or turning the dial on the kitchen radio. His smooth, sing-song delivery and impressive vocabulary tend to shine brightest on posse cuts, especially next to his usually grittier collaborators, and "1982" takes full advantage with guests from M.O.P., Bun B, Styles P, Saigon, Freeway, Reks, and Inspectah Deck among others.
Statik Selektah does just about everything right on this effort. His effect is the product of extensive use of soul instrumentation, be it his vivid, winding basslines, gently nostalgic bells, lush violins, horns, or distant vocal bites. Having grown up a shot down the Masspike from Lawrence and spending much of the last year in the Commonwealth, this record completely exudes Massachusetts to me. Term also sounds amazing over this production. "The World Renown" is such a soulful, relaxing groove that Term's hungry lyrics and buttery-smooth delivery seem to glide over the music at 20,000 feet, and the balance is so perfect that at five minutes and sixteen seconds you wish it would go longer. His melodic delivery makes for a compelling juxtaposition with his slasher narrative "People Are Running," and Statik's complex drum pattern shines as well. Statik's attention to detail is particularly notable, and he does all the little things to push his beats' quality into the stratosphere—be it the precise LL Cool J cuts on "The Radio," an irresistible piano-based number, or the startling children's chorus on the chilling "The Hood Is On Fire."
The duo's chemistry is often remarkable, and they also prove capable of pulling off tracks for the ladies more convincingly than most. The soaring background vocals of "Wedding Bells" lend the track an unmistakable tastefulness, while the piano and horn-laden "You Should Go Home" finds Term and Bun B trading verses directed at a ladyfriend between a well-delivered hook by a Masspike Miles. Term shows a rare vulnerability on the charming "Still Waiting" and rocks a futuristic sounding beat on the closer "Help."
Elsewhere, all parties shine on the sugary-sweet "Tell Me Lies" with Styles P, the magnificent "Life Is What You Make It" with Saigon and Freeway, and the invigorating "Freedom" with fellow Massachusetts native Reks. The consistency and chemistry they flash seems impossibly natural, and the entire record shines with a visual, evocative sheen and musical radiance. In a year dominated by full-length collaborations from veteran duos, Statik Selektah and Termanology have supplied a gem for all seasons in "1982."
Music Vibes: 8.5 of 10 Lyric Vibes: 7.5 of 10 TOTAL Vibes: 8 of 10
Originally posted: November 30th, 2010
source: www.RapReviews.com