Tink :: Winter's Diary 2 :: DatPiff
as reviewed Patrick Taylor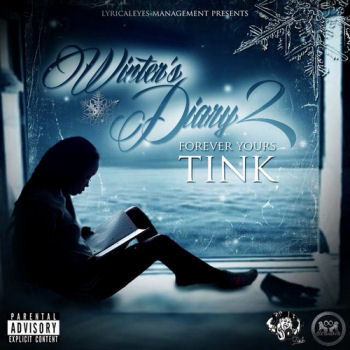 Tink is a Chicago singer/rapper/songwriter who has put out several mixtapes. While her previous mixtape "alter EGO" focused on her rapping, "Winter's Diary 2" highlights her singing, offering tales of love and lust over subdued production.
The line between R&B and hip-hop is blurry. A lot of R&B singers approach their lyrics like rappers, taking their cadence and subject matter from hip-hop. R. Kelly is a good example of this. He's also an example of the practice of pairing sweet melodies with raunchy lyrics, which has been taken to new levels by TeeFlii and Ty Dolla $ign. That approach definitely has its appeal, but it also makes you yearn for the days when R&B singers would just sing about love. Tink takes both approaches, getting dirty on songs like "Dirty Slang" and "Freak Like Me," while offering up sincerely beautiful songs like "Treat Me Like Somebody."
While the slightly raunchy R&B tracks are good, it's the romantic songs that make "Winter's Diary 2" special. There is a sense of vulnerability on the mixtape that makes it stand out. "Treat Me Like Somebody" is built around an acoustic guitar and finger snaps, with Tink's unadulterated voice pining:
"Somebody real is hard to find
Somebody worth all your time
Somebody who can tell you the truth
Someone who loves you for you
Someone who knows all of your flaws and
Doesn't impose, try to control them
Let's you be free
[...]
I just want somebody
To treat me like somebody"
"Lullaby" adds some Auto-tune to create a dreamy feel as Tink coos "Iím gonna be everything you never dreamed/Iím gonna sing oh so sweet, boy you make my heart skip a beat." She even makes the lyric "Money ova everythang/And then you get the wedding ring that you showed me" sound romantic.
Tink applies her stripped-down approach to "2 and 2," a song about a cheating boyfriend. Her pretty, plaintive voice is a nice contrast to lyrics like "Who you been fucking on?/I wouldn't be surprised/If you're lying laying in between my thighs." She may be angry in the song, but you also feel how hurt she is.
"Winters' Diary 2" manages to be vulnerable and tough at the same time. The restrained production is a welcome change of pace from the usual club bangers. Even when she's using synths and Auto-tune, Tink manages to infuse her songs with warmth. She may be able to spit bars (as she proves on "Talkin' Bout") but it's as a singer that Tink really shines.
Music Vibes: 8 of 10 Lyric Vibes: 8 of 10 TOTAL Vibes: 8 of 10
Originally posted: March 4th, 2014
source: www.RapReviews.com