If you missed any of the new reviews this past week, including the double feature reviews of Curren$y's "The Stoned Immaculate" and Flo Rida's "Wild Ones" then do yourself a favor and check out this week's edition of the (W)rap Up!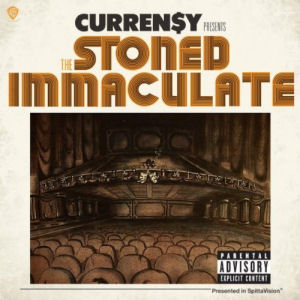 Curren$y :: The Stoned Immaculate
Warner Bros. Records
Author:
Steve 'Flash' Juon
"Shante Scott Franklin b/k/a Curren$y has come a long way since starting out as a member of Master P's
504 Boyz
group, a rather random collection of rappers from P's hometown area code. The group was thrown together at a point when No Limit Records was losing its luster and going through the first of several repacking and restructuring efforts. No matter how many times words like "New" and "Forever" have been added to the label's name, Percy Miller has not been able to recapture the glory days of the 1990's, where a new album came out seemingly every week and every round out the tank was a hit. Curren$y could have sank like the Titanic sized collapse that was No Limit, just another forgotten passenger on the list whose career froze in those iced out waters, but fortunately for him there was room on a lifeboat. His early origins have been mostly forgotten save for
the writers of this website
, and a series of successful mixtapes paved the way for his reintroduction to the general public
with a major label retail album
. The albums reflect one theme that has become predominant for Curren$y - in fact one could punfully say that his condition is CHRONIC based on the titles. Weed has definitely been good to Shante. Instead of sounding like a rapper 10 years older than his 504 Boyz debut, he sounds like a contemporary to other drug obsessed emcees like
A$AP Rocky
,
ScHoolboy Q
and
Smoke DZA
among others."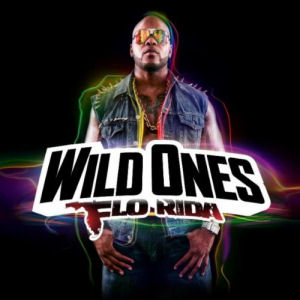 Flo Rida :: Wild Ones

Poe Boy Music Group/Atlantic Records
Author:
Steve 'Flash' Juon
"Originally conceived as a sequel to his album "
Only One Flo (Part 1)
," Flo Rida's new album "Wild Ones" was repackaged and retitled based on the runaway success of the single it's named after. The dominance the song has had on the pop charts, radio airwaves and mainstream outlets has reached the point where I hear my hip-hop friends bitching about it on a daily basis. I guess that puts me in the minority then because even when the soFLY, Nius & Axwell song peaked by being used as an official theme song for
WrestleMania 28
I wasn't tired of it then, and I'm still not now. Sia's singing clearly plays a huge part in that, but in general it's just a bouncy and inoffensive bit of hip-pop that's easy to bop to.Generally speaking that's my opinion of Flo Rida (born Tramar Dillard) as a whole. Though his hip-hop roots and his imposing physique suggest a more thuggish persona, the songs he releases couldn't be further from hardcore. Most of his recent chart topping singles can be found here, including the Dr. Luke produced smash hit "Good Feeling". The album's newer tracks which have yet to chart fit perfectly into Flo Rida's pop rap formula. People tend to use that word like it's an indictment, as if being "formulaic" is inherently bad, but I don't find anything bad about the hard driving dance beat or Jennifer Lopez crooning of "Sweet Spot." "

various artists ::
Soul 7
::
Now-Again Records
as reviewed by Patrick Taylor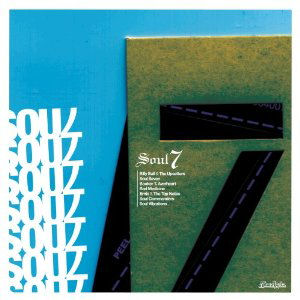 "This is a review of the digital reissue of a 7" box set reissue of seven obscure funk singles from the seventies. It is also one of the first releases given to subscribers of Now-Again Records new subscription service on Drip.fm (drip.fm/nowagain). For fifteen bucks a month, subscribers get every Now-Again release two weeks before release date, plus lots of extras. Now-Again is an offshoot of Stones Throw, and is a labor of love from funk archaeologist Egon Alappat, who has made it his mission to find the rarest, most obscure funk and soul albums from across the world and give them proper reissues, as well as releasing albums by current artists. With that plug for Now-Again out of the way, let's get to the music. This set collects fourteen songs by seven funk and soul artists from the seventies. The artists are Ernie and the Top Notes, Inc., Booker T. Averheart, the Soul Vibrations, the Soul Seven, Bad Medicine, Billy Ball and the Upsetters, and the Soul Commanders. The only way you've heard of any of these groups is if your uncle was in one of them or if you are an obsessive rare music collector. They came from Dallas, Cincinnati, Syracuse and beyond. They released a single or two, played some local gigs, and then faded into obscurity. They hung up their tinseled jumpsuits and got regular jobs, giving up their dreams of making it big. Booker T. Averheart went on to build and airport and run a motel, among other enterprises. Collectors scrounged for their singles and sold them for beaucoup bucks, of which the artists saw exactly nothing. And then one day, a skinny white guy shows up at their doorstep asking if he could reissue their music. The result was the 2001 "Funky 16 Corners" compilation and this lovingly curated collection."

various artists ::
URBNET Certified Vol. 3
::
URBNET Records
as reviewed by Steve 'Flash' Juon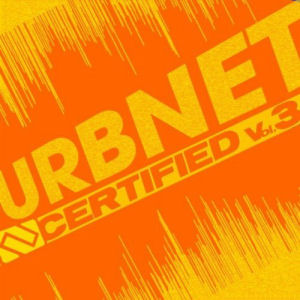 "
URBNET compilations
tend to be known for a relative insularity to their own label roster and to the Canadian hip-hop scene they rep - and neither of those things is to their detriment. When many of their American contemporaries seem trapped in paradigms of rap stardom that stopped working years ago, groups like
Animal Nation
are able to reinvent what hip-hop music has the potential to be, reminding us of the truly limitless potential of the art and culture so many of us grew up in love with. In my lighter moments I speculate on the reasons why this happens - maybe it's the socialized medicine, maybe it's the colder climate making everybody hustle harder, or maybe it's the quality of the beer eh? I kid, but there's no doubting songs like "Wooden Roller Coaster" are hip-hop's future looking forward.Frequent URBNET consumers have come to expect a certain group of names to be represented on these releases, and won't be disappointed to see they're here. D-Sisive's melancholic cover of Naughty By Nature on "Ghetto Bastard" is a treat, Moka Only answers his own question on the funky synthesized sounds of "The Why Song," and the latest Canadian dynamic duo of
Perfeck Strangers
(Dan-e-o and Promise) have some "Work to Do" on a superbly hype bouncy beat. So in short it's no surprise that the expected names like Kae Sun (singing his way through "When the Pot") or Wordburglar (going Scooby Doo like MF DOOM on the track "Fred Broca") come through, but there are also some pleasant surprises."

Blanco & Yukmouth ::
Cookies 'n Cream
::
Guerrilla Entertainment
as reviewed by Matt Jost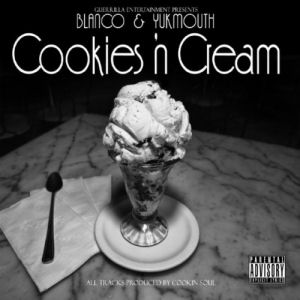 "The more things change, the more they stay the same. In 1995 Yukmouth scored the biggest crossover weed anthem ever with his partner Numskull, "I Got 5 on It." The song yielded a legendary
'Bay Ballas Remix'
that featured a near-complete Bay Area all-star line-up. Fast forward to 2012 and Smoke-A-Lot still serenades Mary Jane, sharing the spliff once more with fellow Bay Ballas Dru Down and Richie Rich (completed by E-40 stand-in B-Legit). This time the smokefest is called "Airheads," the first song on "Cookies 'n Cream," the Oakland rep's collaboration project with Blanco and Cookin' Soul.Unlike Yukmouth himself the latter may need an introduction. Cookin' Soul are a production team from Spain whose beats get picked by a variety of US rappers, from Harlem's 40 Cal in '07 to Hollygrove's Fiend in '12. Blanco is a Berkeley, CA rapper who has been putting out mixtapes since '08, notably the Cookin' Soul-scored "Portrait of a Serial Killer" last year. It's certainly an interesting set-up - a rookie and a vet from the West Coast on the mic with Europeans behind the boards. The outcome, however, is fairly conventional. That's not to say that everything is business as usual. Even in an age where the topic of smoking is more popular than ever with rappers, "Airheads" is an exceptional piece, an epic 8-minute soul suite with five inspired rappers celebrating the virtues of dank and drank."

Clavius Crates :: 19 Years ::
Bandcamp.com
as reviewed by Steve 'Flash' Juon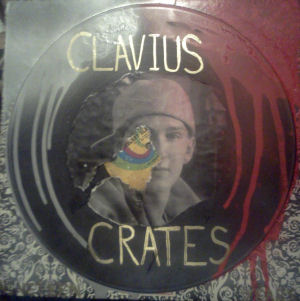 "Clavius Crates from the
Tree City
crew got an immediate spin thanks to two different factors - one of which is that I haven't heard enough from them since
The TreE.P.
and the other is that I still have a soft spot in my heart for Ann Arbor having lived in Ypsilanti, Michigan over a decade ago. It's a really beautiful part of the country, and even though the cost of living there far exceeds the meager amount of dollars I pull in ad revenue and
Amazon Associates album sales
, I can honestly say I'd love to live there again. The hip-hop scene in Eastern Michigan still continues to be underrated and overlooked, even with the breakout success of artists ranging from Eminem to MC Breed (R.I.P.) and underground rappers still get heavily slept on. Speaking of those meager earnings, I'm glad "
19 Years
" was made available at a "name your own price" level. I admit I entered $0.00 and took the free download, but if I can be a hypocrite, my advice is to do as I say and not as I do. I'd offer him at least $5, because this is 15 tracks of quality hip-hop music, and that averages out to only 33 cents or so apiece - still an incredibly good deal. Crates self-produces a lot of these tracks and doesn't come incorrect in the process. "Classically Trained" featuring Silas Green is a wonder, changing up instrumental themes from verse to verse, while bookmarking the entire presentation with a symphonic orchestra sound. "Apocalypse" featuring Fowl is a bugged out sinister banger that musically and lyrically reminds me of
Young Zee
."


Dem One & B.O.O.K.S. One ::
The New Math EP
:: Low Self Discipline Records


as reviewed by Steve 'Flash' Juon

"For the past few months the rapper/producer team of Dem One and B.O.O.K.S. One have been hitting me up with promo videos and information to throw up on the RapReviews newsfeed. Now if I can "shoot" as the wrestlers say for a minute with you the reader, I get so many of these things that I often just regurgitate whatever gets sent my way without having the time to check out or appreciate the value of what I get sent. It's the curse of being self-employed with a large website and an inbox that's constantly flooded with people looking for attention or a review - you have to just keep shit moving before the next 100 e-mails comes in. Somewhere along the way though, I actually stopped to check out a video from The New Math though, and to my surprise they won me over right away. Personality makes a huge difference when you're trying to stand out from an overcrowded genre, and clearly Dem and B.O.O.K.S. had plenty. It probably didn't hurt that I was also amused by the title of their record label - Low Self Discipline. A sense of humor also helps to make you stand out from the crowd, and as emcees go Dem One is definitely wittier than the average. He's got more math in the book than just comedy though - he's got a strong braggadocious style I can get down with due to his confidence on "Vapor.""




Read 427 times::
Subscribe to News by Email