If you missed any of the new reviews this past week including Tech N9ne's "Something Else" then do yourself a favor and check out this week's edition of the (W)rap Up!

Courtesy @MannyWallace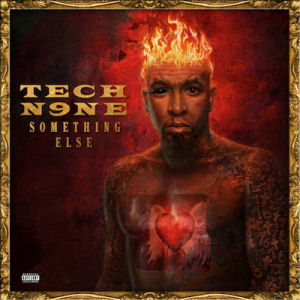 Tech N9ne :: Something Else

Strange Music
Author: Steve 'Flash' Juon
"Tech N9ne opens "Something Else" like a horror/science fiction movie. It begins with a meteor strike in Pleasant Hill, Missouri. The setting was chosen purposefully so that the impact of the strike "could be felt as far away as downtown Kansas City" with "tremors in high rise office buildings." N9ne is the most famous export of the KC rap scene, and the top star of the Strange Music imprint, which is itself headquartered in Lees Summit, Missouri (where the "impact" would no doubt be felt as well). A creeping mist unnerves the reporter on the scene, as well as the sky changing to an unusual burgundy color. Those things are potentially frightening even without a meteor strike, but the implication is of course that what's unfolding on the album is extra-terrestrial in origin. It might be easier for some people to understand Aaron Yates if they perceive him as an alien - a man who professes on "B.I.T.C.H." to be "putting all the facepaint I can put on." He's known for his deliberately wild physical appearance, at times sporting brightly colorful mohawk spikes, which may cause stereotypers to confuse him for a punk rocker instead of a hip-hopper. Tech N9ne relishes this kind of cross cultural confusion and revels in it, refusing to conform to any standard other than his own. The news reports continue throughout the album, at first disturbing (vandalism) and then positive (decreased crime and increased school attendance). N9ne won't profess to being either positive or negative, simply stating "I'm Not a Saint." Does that make N9ne a cult leader? He certainly has a cult following. He's regionally popular but nationally recognized, and able to tour off the strength of his own name without having to partner up with anyone else. In fact most hip-hop tours wish they could have him as a supporting act to tap his popularity. That devoted cult following explains both the size and description of "Something Else" - that is that this album is offered on on Amazon
 as a 26 track, 84 minute long "All Access" edition including all songs from deluxe editions and pre-orders in one shot."
Steve Arrington and Dam Funk :: Higher
 :: Stones Throw Records 
as reviewed by Patrick Taylor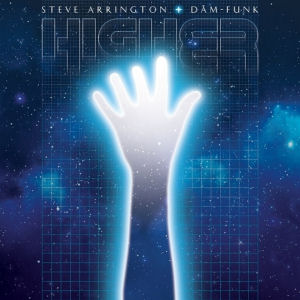 "You might recognize Steve Arrington as the drummer and singer of  Ohio funk band Slave. They had big hits with "Touch of Love" and "Snap Shot" in the early late 70s and early 80s. Arrington left the band in 1982 to have a solo career. In 1984 he found God, and by 1991 had quit the music industry altogether to devote his life to his faith. He never forgot about music, and in the mid-2000s he played drums with some Christian bands. This led him to release his first solo album in two decades, 2009's "Pure Thang." That album got the attention of funkmeister Dam Funk, who reached out to Steve Arrington about collaborating. It may seem a little odd that a 50-year-old minister is releasing an album on indie hip-hop label Stones Throw. It makes more sense once you learn that label head Peanut Butter Wolf met Dam Funk after Dam saw Wolf DJing 80s funk at a party in the early 2000s, well before 1980s funk became cool. Dam gave Wolf a rare bootleg of a  Slave live performance, and a friendship and musical collaboration was born. Dam's 2009 album "Toeachizown" was a throwback to the days of shoulder pads and Jheri curls. Who better for Dam to collaborate with than with one of the OG funk singers? If you've listened to "Toeachizown," you have an idea of what "Higher" sounds like. Dam is devoted to 80s electro funk and R&B, but not slavishly so (no pun intended). He loves the sound and gear of that period, but throws in contemporary elements as well. His studio is full of drum machines and synthesizers from the 80s as well as Macbooks loaded with Protools and other current equipment. Synth swells, farting bass, and digital handclaps are all over "Higher.""
http://www.rapreviews.com/archive/2013_08_damfunkhigher.html
Deca :: The Ocean :: Excess Ent./DecaOneZero 
as reviewed by Steve 'Flash' Juon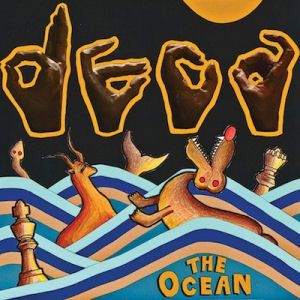 "Deca is a decade down doing hip-hop, but if you haven't heard the name of this Denver don don't despair. At first his fame was subsumed by being part of larger crews - a band called Elemental and a duo called Prana among others. When Deca decided to strike out on his own, he became a victim of the vices of the music industry, though his descent through drug abuse became the fodder for an album called "The Hedonist." Now that he's on the rebound and prepared to reassert himself as an artist, he's preparing a self-produced album called "The Ocean" for a September release. The advance artwork may change before the album comes out, but at present it portrays a flood of biblical proportions sweeping animals and chess pieces (perhaps symbolically humans) out to sea. Deca may have felt he was drowning under the weight of addiction himself, but on "The Ocean" he seems unburdened and crystal clear in his delivery. Colorado feels like California when you listen to him for long enough - not in the gangster rap sense - but that Left Coast feeling of unbounded experimental flow and that crews like the Hieros and Project Blowed made famous. He's the first man in a long time I've heard use "diaphanous" in a flow (meaning light, delicate and translucent) and does so naturally and effortlessly on "Angel Butter" without being pretentious. Deca's wordplay is a revelation. It's like Saul Williams decided to be a rapper, or Aceyalone decided to be a poet. There's a hint of madness to his genius, which Deca plays up by randomly inserting quotes from pop culture, completely bereft of any point of reference, played up in interludes like title track of "The Ocean" - "I'd be in a place, where it was like a maze to get out, but there were no walls. Like I was struggling to get out of a fucking, space." The next quote sounds like GG Allin to me - but that may be my brain trying to compare Deca to other famous addicts. "
http://www.rapreviews.com/archive/2013_08_decaocean.html
Lawnmowher :: novembre amour
 :: Hey WTF Records 
as reviewed by Steve 'Flash' Juon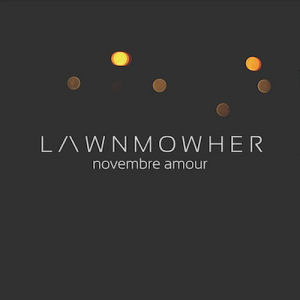 "
Lawnmowher is clearly a different kind of cat. While the selfie on his bio page is not actually him (someone in a Sailor Moon outfit wearing a horse's head) he also hasn't called to complain or change it. And who is this label creating bio photos right out of a Loiter Squad sketch? They're called Hey WTF. It doesn't appear that anybody on this imprint wants to be associated with doing the same old shit, and their name informs you right up front to expect the odd and bizarre. It's a throwback to the 1990's for me, when indie labels had names like Fondle 'Em and Solesides, and you could expect dopeness each time they dropped something new. I don't know Hey WTF well enough yet to say they'll get that kind of reputation, but "novembre amour" is a promising start. Lawnmowher is an instrumentalist, not an emcee, so "novembre amour" is what is more and more frequently called a "beat tape" these days. Unlike many producers putting out beat tapes though, Lawnmowher decided to (A.) release a single off his album and (B.) create a music video for it. "whispermeurname" is an odd collage of images - a girl dancing with a cow, people splashing water on their face overlaid by computer generates lines, rising flames, and disembodied heads. The video clips do change along with the beat though, so it's hard to deny the hypnotic effect it ultimately generates. Half of Lawnmowher's tracks are under 180 seconds long, and half are over it. That just proves his flexibility - he can make a quick point or draw it out and suck you in. The short songs like "Heaven With U" (featuring Raul Flores) are just as intriguing and mysterio. Here it's like somebody decided to make hip-hop with wind chimes and a scratchy turntable. I can't imagine anybody rapping over it - and wouldn't want anybody to either. This kind of music is best served by itself."
http://www.rapreviews.com/archive/2013_08_novembreamour.html
Lefty :: My Views :: DatPiff.com 
as reviewed by Steve 'Flash' Juon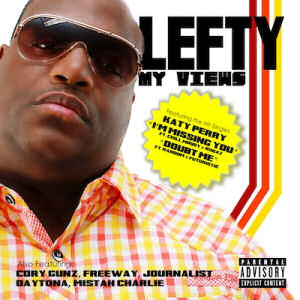 "Rap artist Lefty has several things in common with Random a/k/a Mega Ran, not the least of which is that he's a Philadelphia native who eventually wound up chilling (or perhaps more accurately cooking) in Arizona. I don't think we're going to see a mass exodus from Philly any time soon, but Lefty is more than willing to exploit this coincidence. Random appears on three tracks throughout "My Views," and some of Philly's other rap sons are on the album as well - Journalist and Freeway to name two. On the Hexsagon produced single "Katy Perry" though, Lefty is all on his own. Damn - I had no idea Katy Perry was such a bitch! Lefty is using her name as an example though, describing a woman who uses people for personal gain, and I suppose that it's conceivable that the fictional female archetype he describes may have qualities in common with the real star of the same name. It's common for rappers to name songs after celebrities though just to achieve more recognition, which is why I fully expect an emcee to drop a song called "Darren Young" any minute now. My favorite track on "My Views" drops no names though - it just makes a simple statement - "Doubt Me."  Mr. Throwed sets just the right tone with a laid back piano melody for both Random and Lefty to flow over. Production is well above the average for a free mixtape in general. Alex Minor's "Protect the Child" is hella smooth, while DCee's chopped up R&B samples on "I'm Missing You" are highly enjoyable. These two provide a majority of the production on "My Views" and are Lefty's best partners. I wanted to like ELJay's lone contribution "Game On," but it sounded like a bad knockoff of Southern rap bounce, lacking the bass bottom to pull off the imitation."
http://www.rapreviews.com/archive/2013_08_leftymyviews.html
LMNZ :: Anders als die Besseren :: BandCamp.com 
as reviewed by Emanuel Wallace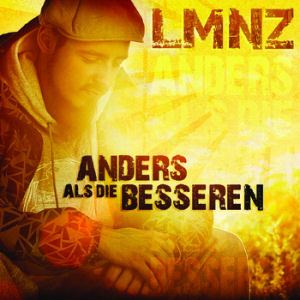 "In 1995, Lost Boyz dropped their criminally slept-on debut album, "Legal Drug Money." The album's second single "Jeeps, Lex Coups, Bimaz & Benz" included a hook that contains the line "And to the hoods, east coast, west coast, worldwide." It's almost guaranteed that Germany's LMNZ took this to heart. For proof of this, look no further than his 2010 release "Worldwide Rap" — an album that featured artists from all six habitable continents in a true demonstration of the belief that hip-hop is undoubtedly universal. LMNZ is back at it again with "Anders als die Besseren," which translates to "Different From The Better Ones" in English. The title is a play on the phrase "Besser als die Anderen" which translates to "Better Than The Other Ones." The album features production from the likes of Cleast Intwood, GUTS, Batsauce, Beat 2.0 and of course LMNZ himself. Much like "Worldwide Rap," the guest list is quite extensive, featuring twenty-seven artists overall. The album opens up with LMNZ and Paco Mendoza on "Tranquillos." LMNZ spits in German and Paco does his thing in what I assume to be Spanish as Loomis Green adds a bit of extra flavor with some tight guitar plucks. Sometimes music provides that much needed escape from the troubles of the day and on "Travelogue" LMNZ, Nosliw and Bajka are the captains of the spaceship to take us away to a more pleasant time and space. "Face" and "Fehlgeleitet" are both delivered in German by a going for dolo LMNZ. Even if you don't understand a single damn word, the GUTS production on the former song pulls you in and on the latter, the "Between The Sheets" sample stops you in your tracks and makes you take notice of what's going on here. Gunman Xuman and Bettina Meske join LMNZ for "Will You Go On" as we find LMNZ effortlessly comforting a young lady that is stuck in a bad relationship and needs to make a change...who just happens to be naked in his bed. Gunman takes a different approach, calling for the listener to make the right decisions in life and live better. "Ich Machs Einfach" features some nice violin and trumpet work by Domenica Kastl and an appearance by Wanja Janeva. "118" finds LMNZ delivering a speedy-but-precise flow that over the course of three verses leaps from topics that range from Bart Simpson to Marvin Gaye."
http://www.rapreviews.com/archive/2013_08_andersbesseren.html
Terrace Martin :: 3ChordFold
 :: AKAI Music 
as reviewed by Zach 'Goose' Gase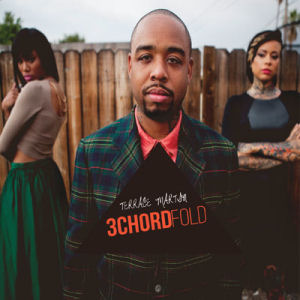 "Terrace Martin is many things: a rapper, a producer, a saxophone player, among other things. On his debut full-length album, "3ChordFold" he expertly utilizes all of his skills to create one of the year's best records. Martin, who hails from Los Angeles, has gained some attention over the past few years with acclaimed mixtapes ("The Sex EP," "Here My Dear"), and he has built some strong relationships with some of the West Coast's brightest and most respected. Of Martin's many skills, his storytelling ability is what makes "3ChordFold" a great album. Like many of his previous releases, "3ChordFold" revolves around relationships, but this time Martin uses the album's 14 tracks to tell a story about three different types of relationships: the freeloader, the renter and the buyer. Martin finds himself juggling the freeloader and the renter until he decides he wants a buyer at the end of the album's climax "Happy Home." "3ChordFold" is a special and unique album also because of its production. Handled by Martin, along with some help from 9th Wonder, Focus…, and Quincy Jones, the production is flawless and modernized blend of hip hop and jazz. Most jazz hip hop these days comes off as "retro" or an homage to the early 90s style that was made popular by acts like A Tribe Called Quest. On my personal favorite song on the album, "Something Else," Martin and 9th Wonder are able to blend a soulful, jazzy beat with an autotuned hook from Problem. Initially Problem's heavily autotuned vocals are pretty off-putting, but after repeated listens, there are some incredible harmonies layered during the chorus. The Wiz Khalifa-assisted "Motivation" is another great example of combining modern hip hop sounds with organic jazz instrumentation. Wiz delivers an excellent verse over the spaced-out instrumental, which includes 808s and a heavily reverbed guitar that sounds similar to the notes from Jay-Z's "Dead Presidents." Even though he has a wide range of talents, one of Terrace Martin's weaknesses is his rapping. Lyrically he is strong - not Kendrick or Ab Soul levels, but good enough to hold down a project by himself. Martin isn't all that engaging as a performer, and his raspy vocal delivery doesn't make him standout among other artists. Luckily he does an excellent job of masking his flaws with lush production (with a couple of appearances from Robert Glasper among other talented musicians) and top tier vocalists (Musiq, James Fauntleroy and Lelah Hathaway).

http://www.rapreviews.com/archive/2013_08_3chordfold.html



Read 8,516 times::
Subscribe to News by Email