Happy Holidays! If you missed any of the new reviews this past week including Childish Gambino's "Because The Internet" then do yourself a favor and check out this week's edition of the (W)rap Up!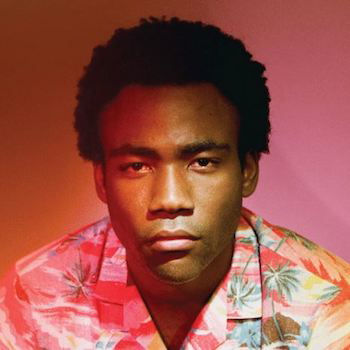 Childish Gambino :: Because the Internet

Glassnote/Island Records
Author: Steve 'Flash' Juon

"Donald Glover owns an enviable position in two different worlds - successful as an actor/comedian on shows like NBC's "Community," and successful as Childish Gambino in the music world. Owing to his success as an actor, many people were skeptical as to whether or not he was serious about hip-hop. Glover's response was to refine his craft over a series of free mixtapes, showing gradual improvement from one to the next, each time vowing that he was taking his rapping as seriously as his acting. I can't speak for every critic out there, but as for me Glover earned my respect with his dedication. I've come to consider him a "two sport star" for the modern generation - he is to the early 2010's what Will Smith was to the early 1990's. He may even have the same upside as a Hollywood movie star, but only time will tell. "Because the Internet" is the latest chapter in the Gambino saga. It's also his most ambitious album to date. Glover has structured the album into sets that number anywhere from 2 to 5 tracks. You could consider each one books on a shelf, lined up from left to right, and each book being its own mini-album. That doesn't mean you can't read a chapter out of any book at random if you so choose. In fact the fifth chapter of one book is "3005" and that's been branched out of the album as a single with an accompanying music video. It's more than remarkable that Gambino manages to juggle his acting and lyric writing with producing, and although he has co-producers throughout (most notably Ludwig Göransson) it's still extra work he's putting in. It's hard to find an area that Gambino has slacked in out of the three - the quality throughout "Because the Internet" is consistent. It's not a short album either - most versions have no less than 19 songs. Some tracks like "Flight of the Navigator" are almost six minutes long. Phoning it in? Not even close. Glover put in some work. As for "Navigator," Glover shows his versatility in another area on this track, singing as opposed to rapping."

http://www.rapreviews.com/archive/2013_12F_becausetheinternet.html

7 Days of Funk :: 7 Days of Funk
 :: Stones Throw Records 
as reviewed Emanuel Wallace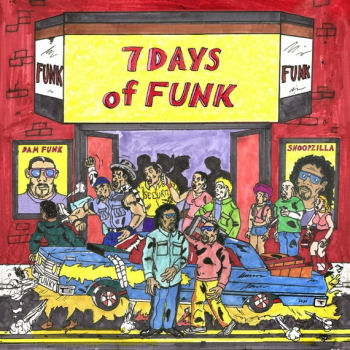 "It's been twenty years since Snoop Doggy Dogg's debut album "Doggystyle" and he's still as prevalent and relevant as he's ever been. In the time since the Dogg made his first appearance on the "Deep Cover" soundtrack, he's released twelve solo albums under one of his many monikers and four more collaborative efforts with 213, Tha Eastsidaz and Wiz Khalifa. He's also appeared in several movies, television shows and commercials. Hell, he even produced his own porno flick a few years back. To put things in their simplest terms - Snoop has become a worldwide cultural icon, transcending just hip-hop music. With that said, what does Snoop Dogg need with rap? It's easy to suggest that the D-O double-G just retire and ride off into the sunset, satisfied with being one of the all-time greats but how did that work out for Michael Jordan, Brett Favre or even Jay Z? All three of the aforementioned individuals are fierce competitors and always striving to prove that there's still something left in the tank. The Doggfather is cut from that same cloth and doesn't plan on being washed up anytime soon. Snoop Doggy Dogg was content to lambaste bitches and hoes, pull 187s on undercover cops and drink gin & juice with the homies but as he grew older and wiser, he became more willing to expose his soft underbelly to us all - giving us songs like "Beautiful" and "Sexual Eruption." Venturing outside of his traditional comfort zone, he changed his name to Snoop Lion and released "Reincarnated" which featured the anti-violence song, "No Guns Allowed." A chance meeting with Dam-Funk at an event in 2011 led to Snoop's latest collaborative effort. Dam-Funk hails from Pasadena and for the most part makes music that, as one might expect, tips its hat to funk music from the 70s and 80s. For the purposes of this project, Snoop has dubbed himself as Snoopzilla, which clearly pays homage P-Funk pioneer, Bootsy Collins. The name the duo bills themselves as is an acknowledgement of how long it took to put the project together. "

http://www.rapreviews.com/archive/2013_12_7daysoffunk.html

Atheist :: Topanga :: Bandcamp 
as reviewed Steve 'Flash' Juon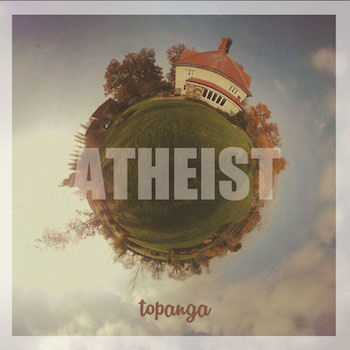 "Does Atheist view himself as a boy meeting the world? Perhaps. He's already admitted in interviews that he named this album after Danielle Fishel's popular character from the long-running ABC sitcom, a hippie turned hottie who undoubtedly drove many viewers as crazy as her boyfriend Cory. Topanga was "sexy thick." That would be reason enough to go all Murs & Slug with the album title. There's a deeper interpretation though - one which reflects the evolution of Fishel's role from a guest character to the heart and soul of the show - and the smartest on-screen character to boot. Atheist isn't necessarily egocentric enough to consider himself the smartest rapper in the state of Utah, nor the City of Salt Lake, though both are routinely slept on. Atheist is not the first to hit us up though - we've reviewed Facts and uMaNg among others. For better or worse the most famous rapper from the state may be Spenser Dauwalder, who was arrested for spitting his order at a McDonald's drive-through (and later acquitted). Atheist aims to change that though, working with producers like Raashan Ahmad and Woodstock among others, and using self-deprecating humor on songs like "Freestyle Fresh" to not get a big head. Despite knocking his own popularity, clever word skills lead to humorous snaps: "I'm a dusty NES - I don't play!" He's also pop as in pop culture, mining a cult classic film in "The Warriors" for a song of the same name. No detail was spared in the music video to accompany it - Atheist made sure to recapture the look and feel of the original for his clip. Watch out for The Furies and their baseball bats! 

Throughout the 60 minutes of "Topanga," Atheist flips up a variety of styles and topics, all while offering a high quality of music that Utah skeptics will be surprised by - including the quick tempo and anthemic "Salt Lake City" song. "



http://www.rapreviews.com/archive/2013_12_topanga.html

Black Dave :: Black Santa's Real Black Christmas :: DatPiff 
as reviewed Steve 'Flash' Juon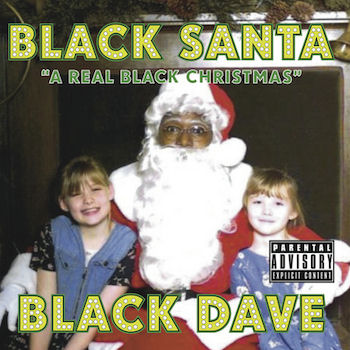 "Black Dave is an enigmatic figure of the underground rap scene who once summed up his entire style in five words: "I rap and I skate." That self-description is inevitably going to draw comparisons to Lil Wayne, but Black Dave hails from New York City and not New Orleans. One has to feel the two would hit it off though when listening to the song "Don't Be Mad."

Even though be brags that he's a "New York City skater living out (my) dreams" on the track, he takes a time out from dreaming for a little bit to drop the "Black Santa's Real Black Christmas" album. Don't get this confused with good tidings of the holiday season or joyous caroling though. Even Eazy-E may have had more cheer when he said "Merry motherfucking Christmas, and have a fucked up, new year!" For example I wouldn't play Black Dave's "Rudolph" at your holiday office party, unless everybody is so drunk on spiked eggnog they'll forget it later. It starts out sounding like the classic ode to Santa's red nosed sleigh puller, but quickly takes a very dark turn and becomes an ode to a snitch. 

It's not that Black Dave is a bitter green Dr. Seuss creation who wants to ruin Christmas though - he's just using the holiday theme as a chance to share some reality stories from around his way. He clearly wants to have a good laugh - product of the environment or not. The issue of whether or not a black man in a Santa suit gets accepted as the "real Santa" has already been addressed on The Boondocks so for Dave "Black Santa" isn't a political statement. 

Dave may have bigger balls than the Christmas ornaments he raps in front of in this video, especially for making a "knock you out the park like my name was Mickey Mantle" reference. Mantle's run as a New York Yankee was before I was born, and I'm not exactly a young cat, so maybe he's a sports historian besides being a rapper and a skater. I appreciate it. "I ain't a fuckin thief, but I gotta keep it real/They had a lot of shit, so a nigga had to steal." It's ultimately a reverse Santa fantasy, complete with a mom who catches him in the act, and she has "a big fat ass and a nice pair of titties B." At the end of the day, Dave's just having fun."



http://www.rapreviews.com/archive/2013_12_blackdaveblacksanta.html

Cory Mo :: Take It or Leave It
 :: C Mozart Muzik/Javotti Media 
as reviewed Matt Jost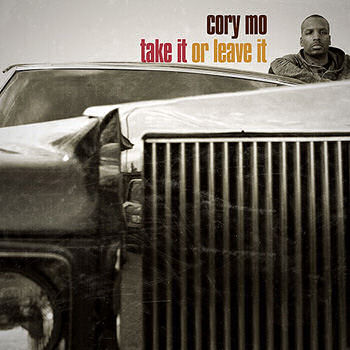 "Although he has since relocated to Atlanta, Cory Moore keeps H-Town close to his heart. His finally available full-length debut, "Take it or Leave It," reflects the local rap scene's loyalty to black music of decades past, the album cover even re-enacting Donald Byrd's 1963 LP "A New Perspective." As a producer, Cory Mo's past clients include the Geto Boys, Devin the Dude, Z-Ro, Lil Keke, and of course Bun B and Pimp C - under whose tutelage he essentially came up. You could call him a latter-day DJ DMD, another composer-turned-vocalist from the UGK entourage - if D and C didn't share the same starting point back in '80s Port Arthur, while Cory Mo may have accompanied UKG for a substantial part of their career but started out as a protégé of Pimp C, rather than a peer. Other than that (and despite the 15-year span between their albums) the comparison isn't that far off. Both DMD and C-Mo aren't natural born rappers but possess the clean-cut, confident flow of experienced producers. And they both prefer traditional musical patterns. Up for a challenge, Cory Mo raps over outside production for a number of songs, mainly from the duo of Beatnick & K-Salaam, likely recommended to him by the guy who puts out his record, none other than Talib Kweli, who by signing Cory Mo further explores his musical kinship with the 'country cousins' down south. Kweli checks in on the sessions and insists to jump on "Hold Up," also featuring Big K.R.I.T. (who seems to channel Pimp C on this one) as Cory Mo comes up with a more contemporary southern beat. "I done been there, done that, bought the t-shirt / Just Sayin' - do some research," he quips up top (Just Sayin' being the name of his clothing line), making his mark before his nimbler tongued colleagues take over. Other big name guests include Bun and GLC over the thick-as-molasses groove of "Chose Me" (co-produced by young Houston producer Risky Boi and laced with nice Snoop scratches) and Devin, Daz and Chamillionaire over the relaxed bounce of "Please Listen Carefully," another explicitly pimpish tune with Devin singing the hook as if it was 1999 again and Chamillion reminding us of his sorely missed talent."
http://www.rapreviews.com/archive/2013_12_takeitorleaveit.html
DJ Skizz :: B.Q.E. (Brooklyn Queens Experience)
 :: Gawd Of Math Music, Inc. 
as reviewed Grant Jones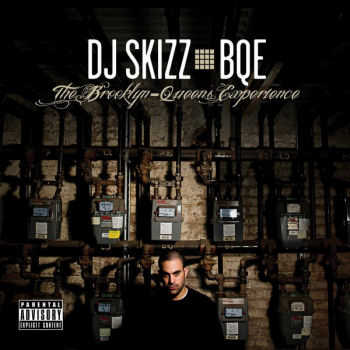 "Fans of New York rap have been spoilt this year, particularly by the producers that maintain that heavy-handed hardcore sound that was most prevalent in the 90s. I'm running out of words to describe the likes of DJ Skizz, who falls in to the same category as Marco Polo, Statik Selektah, Endemic et al. Industrious and workmanlike are apt adjectives for many of these guest emcee projects, and DJ Skizz's compilation is no different. The list of emcees reads off like a late 90s list of rappers that many may recognise, but none have really crossed over: Nature, Shabaam Sahdeeq, Illa Ghee, Rah Digga. Mixed in with legendary figures like Masta Ace and Tragedy Khadafi, current fire-spitters Reks and Roc Marciano and the ingredients are there to match up to any of the recipes that Statik or Marco have recently cooked up. Unfortunately for Skizz, there's only two songs where he shows his true worth as a producer: "Vio-lence" and "Let 'Em Know". The former is inexplicably misspelt, but given Lil' Fame's raucous presence, one of the better moments. He shares mic time with Ill Bill, and because they are so distinct, the overdone subject matter is more forgivable. "Let Em Know" benefits from some much needed energy, blending pianos with the trio of Rah Digga, Shabaam Sahdeeq and Tragedy Khadafi all serving up reminders of their reliability. Khadafi seems to be on every other project that's out at the moment, and it's great to see him firing out strong verses with such consistency. The problem with "B.Q.E." lies in the fact it is constantly stuck between mediocrity and flat out feebleness: songs like "Roast Ya" and "Triboro Thoro" are bland and musically the weakest efforts from Skizz, and there are quite a few weak tracks holding this album together. Decent yet unremarkable songs such as "Day in the Life", "Sucio" and "Init2Win" fail to leave any real impression."
http://www.rapreviews.com/archive/2013_12_BQEbrooklyn.html
Eek-A-Mouse :: Reggae Anthology: Eek-Ology
 :: VP Records 
as reviewed Patrick Taylor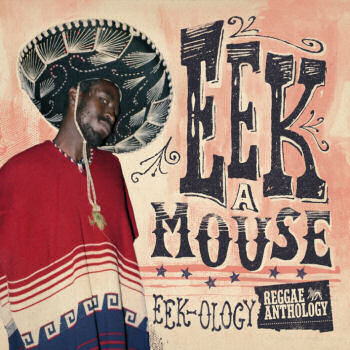 "Eek-Ology" collects 33 songs and a DVD of a live performance from the distinctive singjay Eek-A-Mouse. Born Ripton Joseph Hylton, he got his stage name from a horse he used to bet on. He started recording in the late seventies, but came into his own in the 80s, recording a string of hits with Joe Gibbs, Linval Thompson, and Junjo Lawes. He was one of the first artists to be branded a "singjay" for his combination of singing and deejay chatting. He is perhaps best known for his nasal delivery and goofy ad-libs. This, combined with his name and tendency to wear costumes, might lead you to believe that he is not a serious artist. "Eek-Ology" shows that there is another side to Eek-A-Mouse. His goofy side shines loudly and brightly. Eek-A-Mouse constantly interjects "biddy-bong-bongs" into his rhymes, making his songs equal parts patois and gibberish. His early hits "Wa-Do-Dem" (represented here as an early version "Virgin Girl" as well as a BBC recording) and "Anarexol" are silly sex songs. Eek-A-Mouse's nasal delivery is in full effect, and he biddy-bong-bongs his way through the tracks. This is the Eek-A-Mouse I was familiar with: fun, odd, and not to be taken too seriously. What I was not prepared for was how sincere and thoughtful many of the songs on "Eek-Ology" were. When he isn't busy clowning around, Eek-A-Mouse can be a convincing roots singer. Many of these songs sound like Horace Andy tracks as Eek-A-Mouse tones down the falsetto and gets real. "Creation" and "My Father's Land" are both heavy roots songs. "Ganja Smuggling" and "Operation Eradication" are serious protest songs, with Eek-A-Mouse combining his scatting and affected singing with serious topics. The mix of serious and silly works well for Eek-A-Mouse, keeping him from being either too frivolous or too somber. Even with the mix of styles, the compilation suffers a bit from a sense of sameness. This is partially because there are versions of his hit songs included that use the same riddim for multiple tracks."
http://www.rapreviews.com/archive/2013_12_eek-ology.html
Ka :: Night's Gambit
 :: Ironworks 
as reviewed Patrick Taylor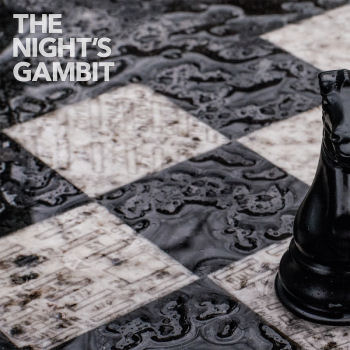 "Brooklyn rapper Kaseem Ryan, aka Ka, first got his start in the early 90s rapping with Natural Elements. After he quit that group, he became a New York firefighter, and stayed quiet until 2008 when he appeared GZA's album "Protools." Ka also released his debut solo album that year, "Ironworks," followed by 2012's "Grief Pedigree." "Night's Gambit" perfects the formula he's developed during his solo career: complicated rhymes over ice cold beats. On his website, Ka states "I already know my songs are not for everyone. They're not for the radio, the club or the masses...I've always tried to remain true to what I believe is the real spirit of hip hop. If you're going to rhyme, you should have something relevant and unique to say. I decided a long time ago that I would make music for the love of it. If you can make money from art, that's a beautiful thing. But money shouldn't be the reason you make art. You make art because you can't help it." Ka has a good day job and doesn't need his album to hit the radio, the club, or appeal to casual hip-hop fans. His music is razor-focused on being as real and intricate as possible. There are zero hooks or bangers, and the only guest spot is from fellow spirit Roc Marciano. Instead, Ka offers eleven tracks of uncompromising music that takes hardcore hip-hop to another level. You've heard of stripped-down beats? Ka's are skeletal. He reduces his beats to the bare minimum. There might be some congos and bass, or Asian strings, or an organ and subdued drums. "Peace Akhi" is nothing but some quiet drums and the vibrations from a piano that's been pounded. A few songs channel seventies soul, but even those are very understated. In the hands of Ka, however, even the most subtle beat has major impact. The album starts with "You Know It's About," which has congos and bass playing the riff from "Black Sabbath." Ka raps in a quiet, unhurried tone, peeling off rhymes like thinly veiled threats. He is the epitome of lyrical: his rhymes are dense, intricate, and full of metaphors and symbolism. You have to listen to his songs hundreds of times to fully understand everything he's laying down, and you still might miss many of the references."
http://www.rapreviews.com/archive/2013_12_nightsgambit.html
Mega Ran and Mister Wilson :: Blur Bomber
 :: MegaRan Music 
as reviewed Steve 'Flash' Juon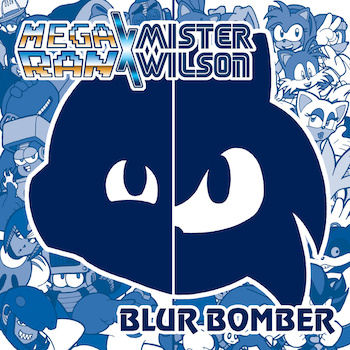 "Mega Man fans reading this review don't need this explanation and thus can skip ahead to the second paragraph. For everybody else:Archie Comics has been publishing a crossover between beloved video game icons Mega Man and Sonic the Hedgehog titled "When Worlds Collide" since March 2013. When series antagonists Dr. Wily (Mega) and Dr. Eggman (Sonic) met up for the first time, they couldn't agree on whether to call their secret dimension the "Skull Secret Zone" or the "Egg Pocket Zone," finally settling on the combined "Skull Egg Zone." Since Mega Man is affectionately known as the "Blue Bomber" given his metallic skin color, and Sonic the Hedgehog is often called the "Blue Blur" given his incredibly fast feet, the two rappers chose a merged nickname of "Blue Bomber" befitting the crossover. In short this album is directly inspired by the comic book saga. Random a/k/a Mega Ran and Mister Wilson are both rappers well known for their love of video games, so a collaboration was inevitable, and the fact their respective favorite game characters were ALSO collaborating in 2013 made it even more irresistible. "Blur Bomber" is the result, a 16-song album available in Random's typical variety of purchasing options. No pun on the fact he used to be an educator intended, but Ran could seriously teach a class to self-published emcees about marketing. You can buy this album as a digital download (no limit), or a hard copy with a bonus track (limit 200), or as a "MegaSonic Pack" with a signed CD, 11x17 poster, stickers and a set of collectible pins (limit 100). That's H-U-S-T-L-E HUSTLE. Not only does this kind of marketing engender fan loyalty, it also puts more money back in the pockets of two rappers who get no major label advances."
http://www.rapreviews.com/archive/2013_12_blurbomber.html
Natti :: Still Motion
 :: APOS Music 
as reviewed Zach 'Goose' Gase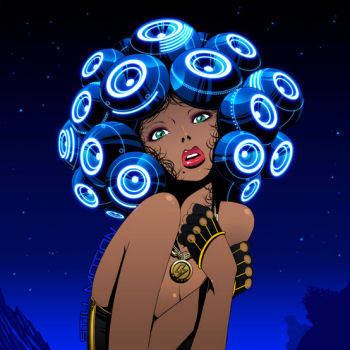 "Since joining the "southernunderground" crew, Kentucky-based rapper Natti has become a more and more important cog in the CunninLynguist machine. By the time the trio released their 2011 record "Oneirology," an album I consider among the best releases of the 2010s, it became fully apparent that Natti was the 'Lynguists' best lyricist. About two and a half years later, Natti finally has released his solo debut, "Still Motion," and it does not disappoint. Upon receiving the news that Natti would be finally releasing his first solo record in 2013, my first reaction was: "I hope Kno does not produce the whole thing." This may seem like an odd request because anyone who has listened to a CunninLynguists album will tell you Kno is among hip hop's best producers. But anyone who has followed the group over the past seven or so years will also tell you, almost all of the positive recognition to their work is focused on the production, leaving their lyrical offerings underappreciated, if not totally forgotten about. My hope for "Still Motion" was for Natti to showcase his gruff, southern twang delivery and well-rounded lyricism, and perhaps gain some recognition for one of my favorite acts of the past ten years. As far as production goes, I did get my wish; Kno only has three production credits on the album, and the rest of the duties go to the other CunninLynguists producer, Deacon the Villain. Deacon's style is very similar to Kno's, but at the same time it is more dedicated to a soulful blues sound, whereas Kno has recently added more spaced out, ambiance sound to his production (see: "Oneirology"). As one would expect, Kno's three beats on "Still Motion" are obvious stand out cuts: "Another Galaxy" sounds like an OutKast song from the year 2025, "Just Like You" has a glossy-but-still-hard sound that nicely complements the gritty voices of Natti and frequent 'Lynguists collaborator, Freddie Gibbs, and "Filthy Hard" is a straight banger that more than lives up to the song's title. "
http://www.rapreviews.com/archive/2013_12_stillmotion.html
One Dae :: Daes & Times
 :: Coalmine Records 
as reviewed Grant Jones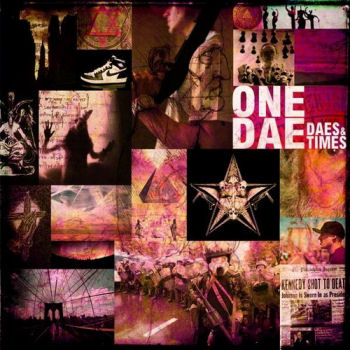 "Knowing that One Dae was a battle rapper doesn't stand him well, with some of the best battlers finding it difficult to transition to songs (Iron Solomon, Supernatural) and inevitably spitting generic filler rap. Considering battle rap in 2013 is on such an advanced level lyrically that once you react to one line, another passes over your head, One Dae has provided a very simplistic collection of raps. It's a strange phenomenon, where you would think an emcee would spend more time and effort to craft a better verse than something directed at mocking a specific opponent. Yet with "Dae and Times" packing an impressive array of producers, One Dae has opted to kick some glorified freestyles instead. Production throughout "Dae and Times" is sturdy if unremarkable. Statik Selektah chops up a pleasantly despondent Marco Polo instrumental on "A Long Way", yet One Dae never really leaves his mark. He is sort of just there, rambling about how he is 'the truth' and how he murders beats. It's all very clichéd, and things rarely improve the more you listen. "Play by Play" isn't quite the sum of its parts due to One Dae's limited flow whilst Evidence delivers an average verse, but JBL the Titan's talents steal the show – not unlike some vintage Alchemist with the vocal, pianos and scratched hook standing out amongst a generally forgettable album. Given the respected line-up, One Dae doesn't really do justice to M-Phazes on "It's Everywhere", sounding a lot like a boastful Masta Ace. Even Marco Polo's gritty drums on "BK All Dae" can't generate a creative spark in Dae's brain. The whole album is precisely what underground hip hop usually derides: dope beats and weak rhymes."
http://www.rapreviews.com/archive/2013_12_daesandtimes.html
Lewis Parker :: The Puzzle: Episode 1 - The Big Game
 :: KingUnderground Records 
as reviewed Grant Jones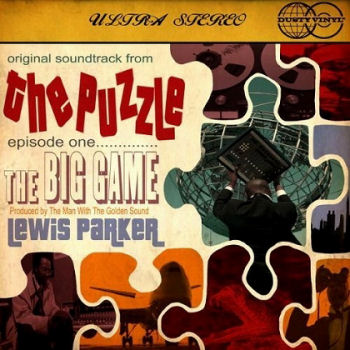 "Lewis Parker is a revered figure in UK hip hop and needs little explanation after his superb album "It's All Happening Now..." showcased Lewis' talents both behind the boards and on the microphone. Granted, he isn't an emcee quite on par with Jehst but does offer a more playful aura that feels unusually timeless. It wasn't long before his talents were requested by other emcees on both sides of the ocean, with Lewis' CV including names as prominent as Ghostface Killah and Planet Asia. The great thing about Lewis Parker, as a Brit at least, is that he still sounds British. He could easily have moved to the United States (which he did) and catered more to that audience by slowly adjusting his accent. He didn't, and while his delivery is relatively easy to understand for any outsiders listening, it actually suits the sample-based style that Lewis is known for. After a strong collaborative album called "International Summers" with the equally ordinary sounding John Robinson, Lewis is returning to the solo avenue to provide an episodic group of releases starting with this first episode from 2011. Episode 1 is a much shorter record than the sequel, so if value for money comes in to your decision making when shopping for new hip hop, go for the 2013 release. That's not to say this release should be ignored however, with some brilliant examples of Lewis' production capabilities evident throughout. The chirpy horns on "International Takeover" combined with the crisp drums bring about memories of Pete Rock, but Lewis is a much better rapper than the Chocolate Boy Wonder is. He holds his own alongside Steele of Smif-N-Wessun though doesn't quite have the charisma to match the Duck Down veteran. A similar example is "Snakes and Ladders" alongside Tah Born where Lewis gets pushed to the background by the American accent."
http://www.rapreviews.com/archive/2013_12_puzzlebiggame.html
PHZ-Sicks :: The Moment
 :: Good Day, Greater Tomorrow 
as reviewed Grant Jones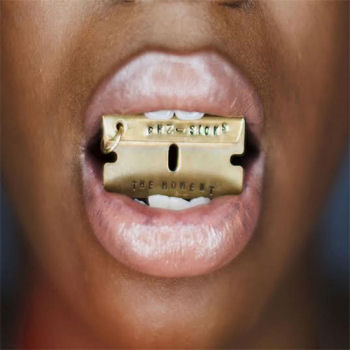 "There's stupid rapper names, and then there's PHZ-Sicks. Pronounced 'physics', surely there are still some smart, yet respectable names left in the rap repertoire to help listeners find music online without difficulty. All the top emcees have opted for simple monikers: Jay-Z, Nas, Eminem, Drake - meaning that PHZ-Sicks has already hindered his progress in terms of accessibility and memorability. Which is a shame, because he has engineered a record here with enough velocity to force his way in to the minds of many rap fans, despite never really dropping any joules. With all the Physics-based puns out of my system, it'll surprise you to find out that there is next to no mention of Physics, or any other science on this highly polished effort from the VA resident. So if PHZ-Sicks isn't on some scientific flex, what exactly does he rap about on "The Moment"? To be fair, there is a bit of everything on here that while leaning on more commercial sensibilities with the featured singers, does maintain authenticity. What's most remarkable about this release is just how polished the whole thing sounds - PHZ-Sicks clearly takes his game seriously. Listening to "The Moment" it's clear PHZ-Sicks has spent some time researching what makes a good record: cohesion, catchy hooks, and at ten tracks deep, it's a succinct yet never short affair. Lyrically he isn't mind-blowing like his name may suggest, but with a flow not unlike Kendrick Lamar that is never too predictable the way it switches up at random moments, this proves a worthy listen and another example of the gems that can be discovered on Bandcamp these days."

http://www.rapreviews.com/archive/2013_12_PHZ-moment.html

Red Mcfly :: Takeflight :: Flight Club/Evil Empire/DatPiff 
as reviewed Matt Jost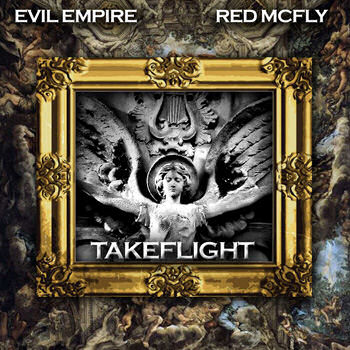 "I was new at this. But I was serious about it, doing what I felt I had to do, telling the aspiring rap duo how far they were from making good, enjoyable music. He was new at this. But he was serious about it, or else he wouldn't have went to the trouble of writing music, recording it, packaging it and sending it to media outlets such as RapReviews.com. And so we meet again, in another time. The artist who today goes by the name Red Mcfly has already had his music examined by this reviewer, and he's made no small progress since then and made it a point to inform me about it. To be honest, when Red got at me recently I didn't remember the EP in question, but my review of it that I found in our archives was just as forgettable and if I'm not disclosing it at this point it's also because I'm embarrassed by the cocksure, judgemental manner in which I dismissed artists seeking a professional opinion. That's all water under the bridge now, and if you, the reader, can take anything from this little episode, it's that you should not let some sideline commentator discourage you from pursuing your goals. Because these days Red Mcfly's production talents are requested by the likes of French Montana, Chinx Drugz, Max B and GLC. With "Takeflight" the Pennsylvania representative expands his resume with a solo mixtape that bears some resemblance to other mixtapes out there but still offers a sincere look at its author. Flying has been the metaphor of choice of up-and-coming (and subsequently top-ranking) rappers for some time now (B.o.B, Wiz Khalifa, Curren$y - to name just the most prominent), so the branding isn't terribly original. But before Red welcomes the listener aboard ("Welcome 2 the Flight"), he chooses to open the project with "Falling," which samples British band Florence + the Machine to great effect. Despite the harsh transition from the fragile female singing to the trappish beat, Red achieves an almost gospel effect when he extends the Florence vocals into his verses. It's certainly an attention-grabbing opener, and Red matches the sensation by reflecting on his life in a measured flow."
http://www.rapreviews.com/archive/2013_12_takeflight.html
Vinnie Paz :: Carry on Tradition
 :: Pazmanian Devil Music 
as reviewed Grant Jones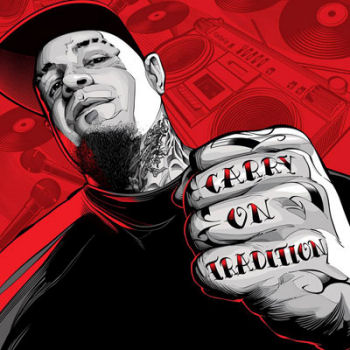 "Ten years ago, I was a huge fan of Vinnie Paz - namely his work on Jedi Mind Tricks' cult classic "Violent By Design" which was a brilliant combination of geeks and gangsters. Unbeknownst to many at the time of release, "Violent By Design" turned out to be a transition record for Vinnie, throwing together enough historical references and abuse of a thesaurus to satisfy fans of the ridiculously wordy "The Psycho-Social, Chemical, Biological & Electro-Magnetic Manipulation of Human Consciousness", but introducing a dirtier, ultra-violent side to Stoupe's production. It also saw a brutal partnership form with Jus Allah, an emcee who'd make Sticky Fingaz blush with wild statements. The demo-like recordings of the first Jedi Mind Tricks album were replaced by a wider array of samples and guests, planting the seed for what would become the Army of the Pharaohs movement. As much as I get a kick out of that hardcore, East Coast boom bap style, I've always enjoyed Jedi Mind Tricks albums because of their overly brutal approach to murder. The likes of "Legacy of Blood" and "Servants in Heaven, Kings in Hell" contained statements so ridiculous you just had to laugh. Examples such as "I'm a mothafuckin baboon, Hit you with thirty-seven stab wounds" and "My fuckin' soul is dark, I wouldn't wish it on you, I wouldn't wish any of my mental conditions on you" , were partly why their earlier work was so enjoyable. Admittedly, since Stoupe departed after the underwhelming "A History of Violence", Vinnie has struggled to add anything on a similar level to his catalogue. While he is still talented enough to write genuinely moving songs like "Same Story" and "Bad Day" - two of the better songs from "God of the Serengeti" - much of his output has been standard ratchet rap proclaiming his infatuation with guns."

http://www.rapreviews.com/archive/2013_12_carryontradition.html

Yo Gotti :: I Am
 :: CMG/Epic Records 
as reviewed Grant Jones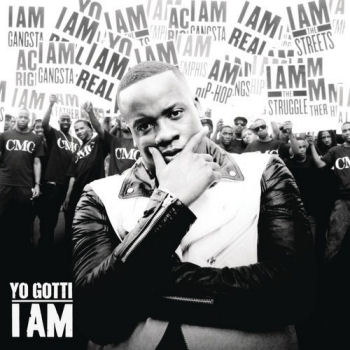 "I wonder if celebrity mob boss John Gotti ever thought he would inspire numerous rappers to name themselves after him. It's possible he wouldn't have minded if they were genuinely talented emcees, but unfortunately his elders fared better. Capone and Noreaga are good rappers, Pablo Escobar and Sam Giancana were part of Nas and Kool G Rap's legendary careers whether they liked it or not, and even fictional characters such as Scarface have been immortalised in rap AND film. With Irv Gotti, Kurupt and Yo Gotti associating themselves with the last great Mafia personality, it's not quite the same. Kurupt has utilised the "Young Gotti" moniker during Dogg Pound albums and has proven himself as a strong emcee through both his west coast work as well as the Horsemen projects with eastern collaborators. Irv Gotti was a successful producer but an awful rapper, and Yo Gotti fares the worst of the lot by lacking the "successful producer" side to his game. That may well be harsh, but Yo Gotti is a swag rapper full of boasts and self-indulgent tripe that lends his music a distinct lack of replay value."I Am" is trashy and flashy in equal measures. It's like the Kardashians of rap albums, in that you know it's bad, you know it's not helping the youngsters, but it still finds a way of hooking people in to its mindless world of sex, drugs and money. The production makes or breaks an album with terrible rapping, French Montana's latest being a prime example of how much a producer and endless guest features can hide an artist's shortcomings. Yo Gotti isn't quite as bad as French, but that's like saying being stabbed in the leg isn't as bad as being stabbed in the chest - you've still been stabbed. "

http://www.rapreviews.com/archive/2013_12_yogotti-iam.html

Read 2,109 times::
Subscribe to News by Email