If you missed any of the new reviews this past week including YG's "My Crazy Life" then do yourself a favor and check out this week's edition of the (W)rap Up!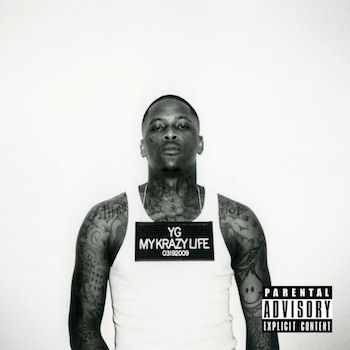 YG :: My Krazy Life

Pu$haz Ink/Def Jam
Author: Jesal 'Jay Soul' Padania

 

"The secret of a good album is to have a good beginning and a good ending; and to have the two as close together as possible. Of course, George Burns may have been talking about sermons, but it applies to hip hop LP's too. Fortunately, YG has applied this to his debut "My Krazy Life" and thanks to superb production from DJ Mustard, savage editing from Young Jeezy (who acts as the Executive Producer) and an unerring sense of fun… Well, what could have been the most clichéd debut in history ends up being quite irresistible. This is West Coast hip hop boiled down and reduced to the most essential elements, and almost everything else is ruthlessly cast aside. "My Krazy Life" ends up being just over forty-six minutes long, with very little filler and possessing a wide variety of concepts. You may note that I didn't use the phrase "subject matter" - this is essentially hip hop karaoke with a twist. Various classic tracks are lifted left, right and centre (Snoop, Dre, Biggie and Pac are the main targets) but fortunately a light touch is applied, both musically and lyrically. Those three-quarters of an hour simply fly by, with the sonic journey almost dead on perfect - DJ Mustard deploys that familiar goofy style of his that works in the right situations, with tangy bass skipping over sparse handclaps. It's instantly familiar thanks to "Rack City" and his other joints, but it simultaneously pays subtle homage to "The Chronic" and "Doggystyle". Truth be told, he deserves to share credit with the star of the show. YG himself is clearly a work-in-progress, but one who possesses an inexplicable charm. He frequently says nothing of note, constantly quotes legends and is limited technically. We lambast J. Cole and Tyga for precisely the same things, but somehow YG pulls it off on his own album. Perhaps his style won't transfer as well to other projects, but in his own world it's a great start. "My Nigga" has been one of those inescapable street anthems that ends up soundtracking Vines and shit - and "Who Do You Love?" featuring Drake is more serious fun for the clubs. Those are the obvious singles to hook you in, but there are plenty of cleverly crafted joints sprinkled throughout."

http://www.rapreviews.com/archive/2014_04F_mykrazylife.html

Greenlee :: Greenfield Radio :: Greenlee Raps 
as reviewed Zach 'Goose' Gase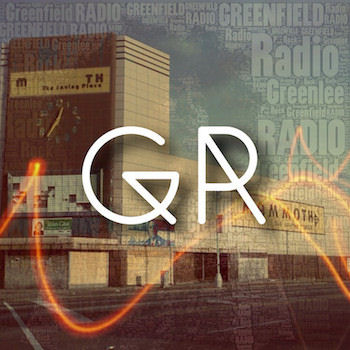 "Last year one of my favorite new discoveries was Red Pill and Hir-O's "The Kick" album (which also made my list of top albums in 2013). In addition to that album, I discovered a collective of talented underground rappers and producers in Michigan called the BLAT! Pack. Out of that group, Red Pill was my favorite emcee and Hir-O was my favorite beat maker. In the beginning of 2014, I saw Hir-O promoting a project with Detroit emcee, Greenlee, on which Hir-O produces eight tracks. I definitely checked out Greenlee's "Greenfield Radio" for the beats. It was towards the end of January 2014 - probably the coldest month of my life, and since there wasn't all that much new music to listen to at that point, the album got regular spins during my morning commutes. I was instantly blown away by the production. Hir-O shows more range on "Greenfield Radio" than I heard on any of his previous projects. "Dark Liquor" and "Polished" feature beautifully flipped vocal samples, subtly layered instrumentation and hard snapping drums. Initially, I wasn't blown away by Greenlee's abilities as a rapper. He has a charismatic personality and a sharp flow, but he seems to have more style than substance. But the more I listened to "Greenfield Radio," the more I grew to like Greenlee's style of rapping. On "Common Sense" he tackles more heavy subject matter, but for the most part, this album focuses on braggadocio, catchy hooks and swagger."
http://www.rapreviews.com/archive/2014_04_greenfieldradio.html
Lil Silk :: Son of a Hustler :: LiveMixtapes 
as reviewed Patrick Taylor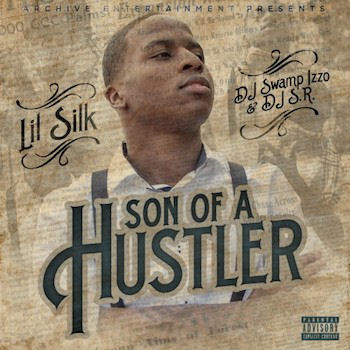 "I'm starting to think the twenty-teens are going to be all about rapping with a weird voice. You got Kendrick Lamar, you got Chance the Rapper, you got Migos, and now you got Chicago-born, Atlanta-raised Lil Silk. You can blame/give credit to Lil Wayne for the amount of rappers getting goofy on the mic. I'm sure at some point soon it will get old and the pendulum will swing back towards ultra-serious deliveries, but for now I'm enjoying how bizarre some of these rappers sound. I'm had decades of listening to dudes proving how tough they were. It adds a nice element of unpredictability when you have an MC who sounds straight up crazy. Like a lot of people, I came onto Lil Silk from his "Rapper" video. That's the one where he's rapping about being a rapper with two women in matching lingerie shaking their asses. Lyrically, it's typical street rap. Lil Silk is rapping about being rich and smoking weed. He rhymes "rapper" with "wrapper" to illustrate that he is truly the son of a hustler, as in "Lil Silk's a rapper/Big Silk's a wrapper." What sets it apart (besides the half-naked women) is his delivery. He has a high-pitched yelp that sounds equal parts crazy and silly, and he combines that with some bizarre metaphors that recall Lil Wayne in his prime: "Whips like massa/'Bout to take off like NASA" or "You a square like a cubicle/And I've been grinding so long I'm a skater (Tony Hawk!)" Then there is Legacy's beat. It combines snapping snares and high hats and dramatic synths with elements of downtempo electronica and trance. The booming 808s sound over a delicate piano melody. It hits hard, but there is also a softness to it that is disorienting. The beat allows Lil Silk a lot of room to insert his yelps and "Oh My GAWDS!" Despite having 12 different producers, almost all the songs on "Son of a Hustler" follow a similar template, combining electronic music with trap drums. It's a formula, but it's a formula that works. Lil Silk's voice is a nice contrast to the ethereal feel of the beats, just like the heavy drums are a nice contrast to the pretty melodies. "
http://www.rapreviews.com/archive/2014_04_sonofahustler.html
Madison Jay :: Rap's Like Wrestling :: Bandcamp 
** RapReviews "Back to the Lab" series **
as reviewed by Steve 'Flash' Juon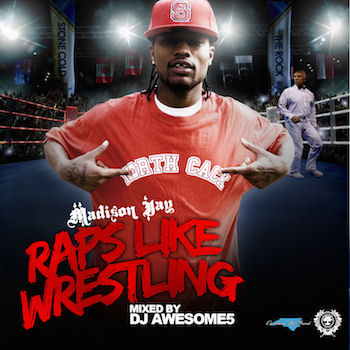 "It doesn't surprise me to learn that Madison Jay is from North Carolina, given 'Nature Boy' Ric Flair was an adopted son of the state and billed from Charlotte for most of his career. It also doesn't surprise me that by the third song of "Rap's Like Wrestling" you hear Mr. Jay making references to putting his opponents in a figure four leg lock. Jay is serious about his wrestling love from the jump though, screaming like a heel John Cena over his intro at "you old Junkyard Dog ass tardy-ass rap niggaz" to let the world know that just like The Undertaker he's arrived to be the self-proclaimed "nWo of this rap shit." For most of the album Madison Jay is rapping over traditional rap beats as opposed to doing hip-hop versions of wrestling entrance themes a la "WWF Aggression." Jay crosses over to the roped off ring with his punchlines and themes, comparing his ferocious attack on the mic to being hit with verbal "Steel Chairz." Every now and then Jay and his partner in crime DJ Awesome5 can't resist the temptation to flex on a familiar theme, and when they do they flip it the way K-Murdock flips chiptunes, turning it into a brand new sound. A good example is how they turn one of the most iconic and well known of wrestler songs, Hulk Hogan's "Real American," and make it into a brand new anthem called "Fight 4 Ya Life."  This is the "rap meets wrestling" album I've been looking for, which makes it a shame that it came out five years ago and I somehow missed covering it then. Song titles like "Shit Gets Real (Like Sabu)" would pop me regardless, but with the throwback 1980's/early 1990's rap instrumental and the "check out my +Pedigree+" punchlines, it's the perfect mix of a rap head who is a wrestling fan catering to the same audience."
http://www.rapreviews.com/archive/BTTL_rapslikewrestling.html
PremRock :: A Clean, Well-Lighted Place :: Planet PremRock 
as reviewed Steve 'Flash' Juon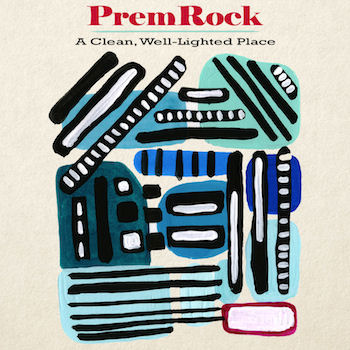 "It's not always bad to review albums. At times it's a lot of work to separate the wheat from the chaff, and at times you wonder if it's worth all the effort you put into it, but every now and then you get to listen to something special just a little bit ahead of everybody else. It's not a bad perk when you get to be early for a PremRock album, a man who I strongly endorse as one of most underrated self-produced underground rappers of the 2010's. Incidentally it still feels strange to refer to the 10's as a decade, even though we're already halfway through it. It makes me realize that at some point there's going to be nostalgia for the 2000's, the same way there is for the 1970's through 1990's. I'm not sure how that decade will be summed up. Eight years of George W. Bush? Increasingly bad Matrix movies? We'll see.  Back to my man Mark a/k/a PremRock though, who seems to have settled down from his "Wild Years" and is now merely in search of a "A Clean, Well-Lighted Place" to lay his head down. He hasn't abandoned his b-boy roots though and gone all peace and love - he's still got the "rap, rock and roll" swagger that makes him the rap star you haven't heard of (but should) on songs like "Supreme." The lead single "Lens" is produced by Quelle Chris, who I've enjoyed more as a producer than an emcee over the years, so I think that's actually a pretty good choice. Coincidentally enough it has a sound that makes me nostalgic for the 1990's - it sounds like the kind of indie rap record you'd hear coming out of the Fondle Em or Rawkus Records camps. Over the length of 16 songs and 47 minutes, PremRock gives us a slice of how he's feeling in 2014, with remarkably little pretense or flaunting for a contemporary hip-hop artist. "

http://www.rapreviews.com/archive/2014_04_acleanwell.html

State Fam :: Rap's Da New Wrestling :: DatPiff 
** RapReviews "Back to the Lab" series **
as reviewed by Steve 'Flash' Juon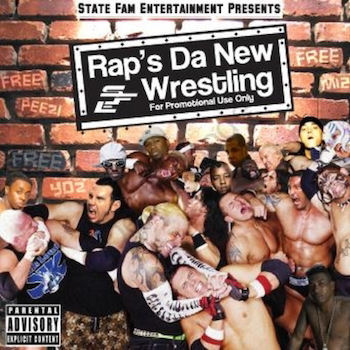 "For those of you who are going to be watching WrestleMania 30 this weekend, this statement from Jesse 'The Body' Ventura may ring as true from a fan's point of view as from the wrestler's. The cultural elite and the intelligentsia turn their nose up at grown men putting on spandex and throwing each other off the top of ring ropes, in a manner we can all admit has little to do with "scientific" or collegiate/Olympic wrestling, but once the tentacles wrap around you they don't easily let go. If you grew up a fan of wrestling, even if you don't watch it weekly any more, WrestleMania is that time of year where those tentacles grab you and say "LET'S WATCH SOME RASSLIN'!!" It's as much as tradition for me to set aside a weekend to the squared circle as it is to look for hip-hop/wrestling crossover events come late March/early April. The results are at times mixed, but I appreciate the salute all the same, because hip-hop has its tentacles on me too and in fact runs exactly parallel to my love of sports entertainment. I started with both at the same age. Hulk Hogan and Andre the Giant are my LL Cool J and Run-D.M.C. and vice versa. For me it makes perfect sense to call this mixtape "Rap's Da New Wrestling," since neither one is letting go of me any time soon. I get a little older and a little more cynical, but I'm still here. Like Al Pacino once famously said, "Just when I thought I was out, they pull me back in." The debatable point on this 2008 DatPiff mixtape is whether or not they intentionally made another comparison between hip-hop and wrestling - it's a staged performance with a fictitious narrative. "




http://www.rapreviews.com/archive/BTTL_rapsdanew.html



Read 996 times::
Subscribe to News by Email