If you missed any of the new reviews this past week including 50 Cent's "Animal Ambition" then do yourself a favor and check out this week's edition of the (W)rap Up!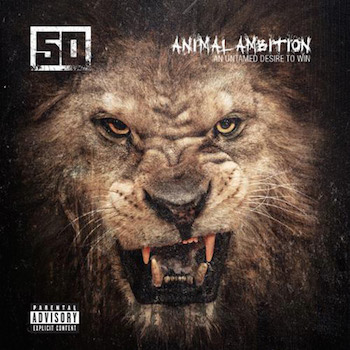 50 Cent :: Animal Ambition


G-Unit Records

Author: Grant Jones

"Five years is a very long time in hip hop, and for somebody that can legitimately claim to be a household name, 50 Cent finds himself dangerously close to being irrelevant. 2007 saw the release of "Curtis" surrounded by a big buzz revolving around a sales rivalry with Kanye West (who released "Graduation" at the same time). He claimed that he would retire if Kanye outsold him, which he didn't. For an emcee that built his career around a wild, dangerous past where he was shot nine times, and mocking "fake thugs" that were known for singing throughout their tracks (some guy called Ja Rule), 50 quickly found himself doing the same thing. Numerous beefs ensued with guys like Fat Joe, Jadakiss, The Game and Rick Ross; there was a film, two video games and despite these largely successful ventures, 50 Cent's hip hop career started heading on a downward trajectory. His last album, 2009's "Before I Self Destruct" was actually a strong outing that featured the obligatory cockiness of "So Disrespectful" and "Death To My Enemies" alongside sappier songs like "Baby By Me"."Animal Ambition" lacks the raw, tribal vision of its title. One moment that was good to hear was "Irregular Heartbeat" which featured LOX member Jadakiss spitting a verse that sounds like it could be aimed at 50 himself, which given their history wouldn't be surprising.Mumbling words is a part of the 50 Cent package when you sign up. He's never been the most eloquent, clearest rapper to listen to, and "Animal Ambition" is a hit and miss affair in this regard. The manner that he raps on "Hold On" and the aforementioned "Irregular Heartbeat" is lackluster, both also lacking the refined production that we've become accustomed to by A-list names such as Dr Dre. In fact, Dre does take a break from swimming in money to assist Dawaun Parker and Mark Batson on "Smoke", a perfect example of 50 doing what he does best - catchy club bangers with that street edge."

http://www.rapreviews.com/archive/2014_06F_animalambition.html

James Gardin :: Moleskines and Pocket Squares :: Bandcamp

as reviewed by Zach 'Goose' Gase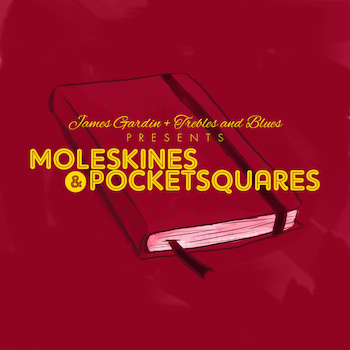 "James Gardin, formerly known as P.H.I.L.T.H.Y., has been one of the best emcees to build a buzz in the Michigan hip hop scene over the past few years. Hailing from Lansing, Gardin is one of the most talented members of the BLAT! Pack (a group that is home to rappers such as Jahshua Smith and Ugly Heroes' Red Pill). Over his past few releases, including the excellent 2012 EP "A Little Light For You", Gardin has built a rapport for crafting uplifting and enlightening songs. On his first solo release since his name change, Gardin teams up with LA producer Trebles and Blues for a 5-track EP, titled "Moleskines and Pocket Squares." The EP is brief, with three of the songs clocking in less than three minutes, but it's probably his best work. While "Moleskines and Pocket Squares" still has Gardin's positive outlook, it's still his darkest project to date. Songs like "Better Days," "I Cry" and "Selah" all deal with some sort of struggle and hard times. Gardin tells stories about despair on "I Cry," which is one of Trebles and Blues' best beats on the EP, features weepy blues guitar. "Selah" is the strongest track on the project, and is an excellent closer because it has a nice uplifting vibe. "Moleskines" is only about 13 minutes long, and my only complaint about it is that it's just too short. Most projects suffer from being 2-3 songs too long, but this EP is the rare project that would feel more complete if it were about 6 minutes longer. "Dinner for Two" is a nice, smooth joint, but ends at 1:31 - right when I start getting into the groove."

http://www.rapreviews.com/archive/2014_06_moleskins.html

MF Grimm & Drasar Monumental :: Good Morning Vietnam 2: Golden Triangle
:: Vendetta/Day By Day

as reviewed by Steve 'Flash' Juon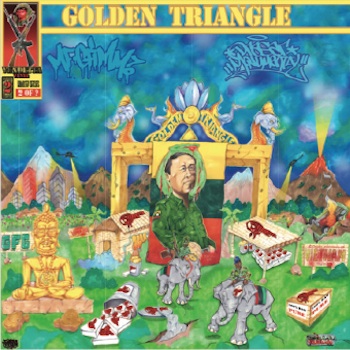 "From Sesame Street to a prison cell. The life and times of Percy Carey b/k/a MF Grimm are aptly described in the title of "Golden Triangle" when he says "I don't need a middleman/I'm an overwhelming force/I make it happen." He certainly does. Grimm is arguably one of the more inspiring (and unfortunately less discussed) figures in hip-hop, having experienced more highs and lows in his lifetime than can be fit into a single album (or in at least one case a TRIPLE album). He owns his own record label and has used it as a platform to launch both his career and that of others, and his unlimited imagination was only bound by his simultaneous pursuit of the street life. He wound up paralyzed in a driveby, wound up jailed for 4 years to LIFE in a narcotics bust, and in a testament to his sheer strength of will overcame BOTH and studied law behind bars until he successfully appealed for a reduced sentence. The second in a series of collaborations with producer Drasar Monumental, the second "Good Morning Vietnam" shifts the focus to the samples found throughout the first film to borrowing from "American Gangster" for the second. The link is not hard to find though given the song depicted an (exaggerated and fictionalized) account of drug kingpin Frank Lucas, who imported his drugs from Vietnam - boasting at one point that it arrived in the caskets of dead American soldiers (and this has been disputed). In some respects this parallels Percy's real life as a drug dealer, although the details of Grimm's life have not been made into a major Hollywood motion picture (yet) - and of course we have no idea who Grimm's suppliers were. It makes for a good parallel though."

http://www.rapreviews.com/archive/2014_06_GMV2.html

MindsOne & Kev Brown :: Pillars EP
:: Ill Adrenaline Records

as reviewed by Grant Jones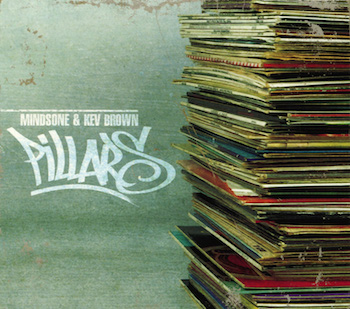 "Kev Brown has always been one of my favorite producers, ever since he laced Cy Young with so many dope beats on his long-forgotten 2009 release "Exactly!". I'd previously heard his work with Wordsworth, but like many have done, completely slept on Kev Brown as a producer. His ordinary name doesn't do justice to the pure, simplistic joy of his production style - a smooth, note-reliant technique that is clearly influenced by the lengthy process of chopping up samples from dusty vinyl. Kev Brown isn't going to blow your mind, but you're 99% of the time guaranteed to enjoy the music he's put together. "Pillars" is no different, and handily includes instrumentals just in case MindsOne turn out to disappoint. They don't (for the most part), but it's clear who the star is here."Pillars" is technically an EP at seven tracks long plus an intro, the rest of the record is the same tracks but in instrumental form. MindsOne do their thing, possessing a laid-back, chatty style that does well not to intrude over Kev as he chops up samples in the trademark fashion his fans know and love. Somehow, Kev has his own sound amongst a field of producers who sound like each other. You could argue that he is the low budget J. Dilla, but it's a harsh compliment. What does set Kev apart is his reliance on bass lines, an oft-overlooked area of a genre obsessed with sampling riffs and vocals. "Pillars" isn't the most lively hip hop record, but its understated, slow-burning sounds will have your head nodding like a pigeon on crack."

http://www.rapreviews.com/archive/2014_06_pillarsEP.html

The Roots :: ...And Then You Shoot Your Cousin
:: Def Jam

as reviewed by Steve 'Flash' Juon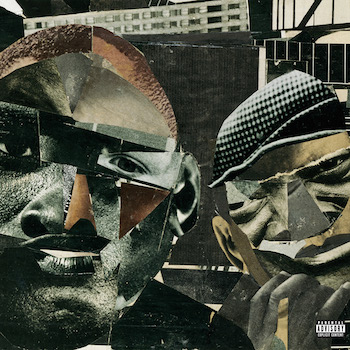 "If you thought "Undun" was too short for a Roots album then in the words of a currently popular pro wrestler "I'VE GOT SOME BAD NEWS." The Roots' latest album "...And Then You Shoot Your Cousin" is even smaller at just over 33 minutes, meaning their side project with Elvis Costello last year was 67% longer than this album. I don't want to inundate you with a lot of boring statistics, but I do need to illustrate to some degree that this is The Roots of now and the future. They were already hella busy as Jimmy Fallon's house band on "Late Night" and now that he's been promoted to "The Tonight Show" they're in a MORE prominent spot as Fallon vowed to keep his format largely in tact and just move it up an hour to Leno's slot. If the pressure of being in the late night spotlight is taking a toll on the Philadelphians they aren't letting it show in the QUALITY of the music on "Cousin." Black Thought continues to be among hip-hop's most insightful lyricists, sharing rarified air with the likes of Illogic,Murs & Slug among others. Thought admitted in advance of the album's release that "Cousin" would be a satirical look at violence in America generally and hip-hop specifically. That's easy enough to glean from the short interlude song "The Devil" when you hear deep rich baritones imparting the words "So don't it strike you funny when you look him in the eye? The Devil looks a lot like you and I." The wealth is being spread around though, as long time Roots affiliate Dice Raw opens the follow-up "Black Rock". Raw and Thought are an ideal tag team for the deconstruction of the American dream, pointing out that hip-hop and society offer up false promises they can't deliver on. The jazzy production of ?uestlove and friends would be worth the investment of time alone - bouncy rollicking piano keys that carry the verses as well as the crooned desperation of the chorus. It feels like the soundtrack to a short motion picture and in fact it arguably is."

http://www.rapreviews.com/archive/2014_06_shootyourcousin.html

Swollen Members :: Brand New Day
:: Battle Axe Records

as reviewed by Steve 'Flash' Juon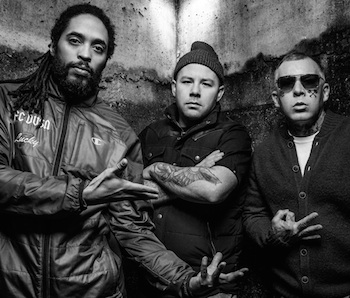 "As far as one can ascertain going into "Brand New Day," the Swollen Members crew are still part of/affiliated with Suburban Noize. Neither side has mentioned a parting of the ways nor removed online references to the other, though retail sites only list Battle Axe Records anywhere that you look. It's fair to note that like this review these listings are in advance of the actual release date on June 17th, so it's just as easy to presume it's an oversight that will be corrected between then and now. If it's not then it certainly wasn't an acrimonious split as there aren't any songs on "Brand New Day" that suggest that Battle Axe and SNR have beef. Madchild's only beef on "Jacques Cousteau" is with everything that's not him. The signature of any Swollen Members album is beats and rhymes that are delivered with attitude that belie their Vancouver background. Did you believe the stereotype that it was Canada's cleanest and friendliest city? Welcome to "Power" - the song that will shatter your misconceptions. "Brand New Day" is full of swagger but it's also meted out with enough humor to avoid becoming self-parody. On "Cock Blocker" Madchild brags about "walk(ing) into a mall with a gun, people are panicking/screamF@%! THE WORLD then I shoot a couple mannequins." They mock their reputation for being loud and boisterous in the opening sample of "Jackson Pollock" and Mad knocks himself down a couple of pegs with the self-description "Old as f#%! and my voice is kinda raspy." Profanity flies freely throughout the album on songs like "Odd Goblins," but the title track is almost folksy and upbeat in its production, lyrical presentation and choice of Wu-Tang Clan samples."











http://www.rapreviews.com/archive/2014_06_brandnewday.html





Read 946 times::
Subscribe to News by Email