Young Money :: We Are Young Money
:: Cash Money/Universal Motown
as reviewed by Steve 'Flash' Juon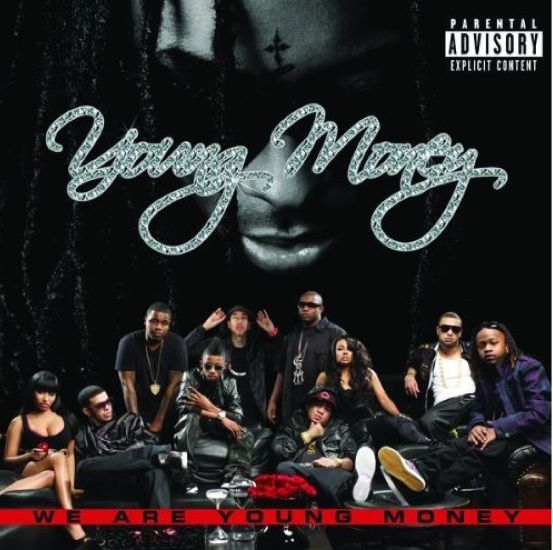 It's surprisingly hard to define what or perhaps WHO Young Money is. Now theoretically Young Money Entertainment is Lil Wayne's vanity imprint, the one which budding rap star Drake is signed to, but "We Are Young Money" is not being released under that imprint. In fact the only two labels of record on this new CD are Cash Money Records and Universal Motown. One might try to define Young Money as a rap collective instead - a loosely affiliated group of rappers that are friends with Lil Wayne and do records with each other. The problem is that Weezy takes Young Money more seriously than a loose affiliation - he clearly intends for it to be a full-fledged label. There are actual lists of "current" and "former" artists on the Young Money roster floating around the internet. Young Money's been around long enough to have FORMER signees? Apparently so. That makes it problematic to define Young Money as a rap group as well. Should any song with current or former members of the label working together be considered a Young Money song? Are only songs that appear on "We Are Young Money" considered "official" Young Money tracks? Is the actual group Young Money only the rappers signed to Young Money on this CD, or could an entire Drake album be considered a Young Money album if Lil Wayne or Nicki Minaj appear on it? It's enough to make one's head spin. Thankfully it's easy to listen to the Kane Beatz produced "Bedrock" and forget the whole thing.
Lil Wayne: "Uh, she got that good good, she Michael Jackson +Bad+
I'm attracted to her, wit her attractive ass
And now we murders, because we kill time
I knock her lights out, and she still shine
I hate to see her go, but I love to watch her leave
but I keep her runnin back and fort' - soccer team
cold as a winter's day, hot as a summer's eve
Young Money thieves, steal your love and leave"
Gudda Gudda: "I like the way you walkin if you walkin my way
I'm that Red Bull, now let's +fly+ away
Let's buy a place, wit all kind of space
I'll let you be the judge, and-and-and I'm the case
I'm Gudda Gudda, I put 'er under
I see me wit her - no Stevie Wonder
She don't ever wonder, 'cause she know she bad
And I got 'er, nigga - grocery bag"
The beat is simple, but the music jumps back and forth between synths and plucky notes to keep things interesting, and Lloyd comes in to steal the show on the chorus by providing the Flintstones punchline tying the whole song together. It's honestly a little surprising this song could be cleaned up to become a huge radio hit given Nicki Minaj brags about "put(ting) this pussy on your sideburns," but in truth that's been Young Money's gimmick since the first time we were introduced to the group concept on "Everygirl in the World." Wayne spent at least the first eight lines of the opening verse talking about "pussy," the rest talking about his sex game, and the chorus openly bragged "I wish I could fuck every girl in the world." Despite all that Tha Bizness made a beat too hot to be ignored, and Wayne's popularity in 2009 ensured almost anything he could touch turned to gold. Given Drake's concurrent skyrocketing popularity, "Everygirl" was a lock almost everywhere.
To be quite blunt about it, that's a major factor for "We Are Young Money" going into Christmas 2009. It's clear that a lot of people out there think of Young Money as "Lil Wayne and friends" including Wayne himself, because Wayne intentionally pushed back the release date of his new solo album "Rebirth" to avoid two Wayne albums going head to head. Unfortunately for Wayne shipments of the album already went out to stores and in their rush to prepare for a busy holiday season some put the album out for sale by mistake, and many advertisers to list his solo album with an on-sale date of December 22nd in weekly periodicals. The people looking for "Rebirth" who can't find it will probably be satisfied with "We Are Young Money" in the interim, because Wayne is on every single song on the album except "Girl I Got You" - coincidentally or not the least impressive song of the CD. Beats are tight and set off the Young Money steelo right, from the heavyhanded Cool & Dre pound of "Gooder" to the understated electronics of Chase N Cashe on "Pass the Dutch," although Kane and Tha Bizness seem to have the best tracks time again on this 15 song CD. The horny horns and AutoTune the latter provides on "Ms. Parker" are the 2010 version of Mannie Fresh, and the track has future single written all over. "She Is Gone" is the opposite extreme. Even though "Everygirl" could be cleaned up, this track takes misogyny to new (and yes disappointing) levels with a chorus built on the refrain "where my old lady, I'ma kill that bitch."
For the most part the charisma of Lil Wayne and Drake carries "We Are Young Money" even when the actual content does not. Occasionally Jae Millz or Mack Maine upstage everyone with a line or two but odds are if you buy "We Are Young Money" you're a Lil Wayne fan. And for the record, according to the photos from the liner notes of the CD, the "official" Young Money lineup is as follows: Jae Millz, Shanell, Tyga, Gudda Gudda, Lil Chuckee, Drake, Lil Twist, T Streets, Nicki Minaj and Mack Maine. You can hear all of them save for Millz on "Finale," which although a fitting end to the album just goes to show there are too many people in Young Money to call it a "group" at all - maybe a band - and only half of them are planetarily established enough to even be in Weezy's orbit.
Music Vibes: 7.5 of 10 Lyric Vibes: 6.5 of 10 TOTAL Vibes: 7 of 10
Originally posted: December 22, 2009
source: www.RapReviews.com