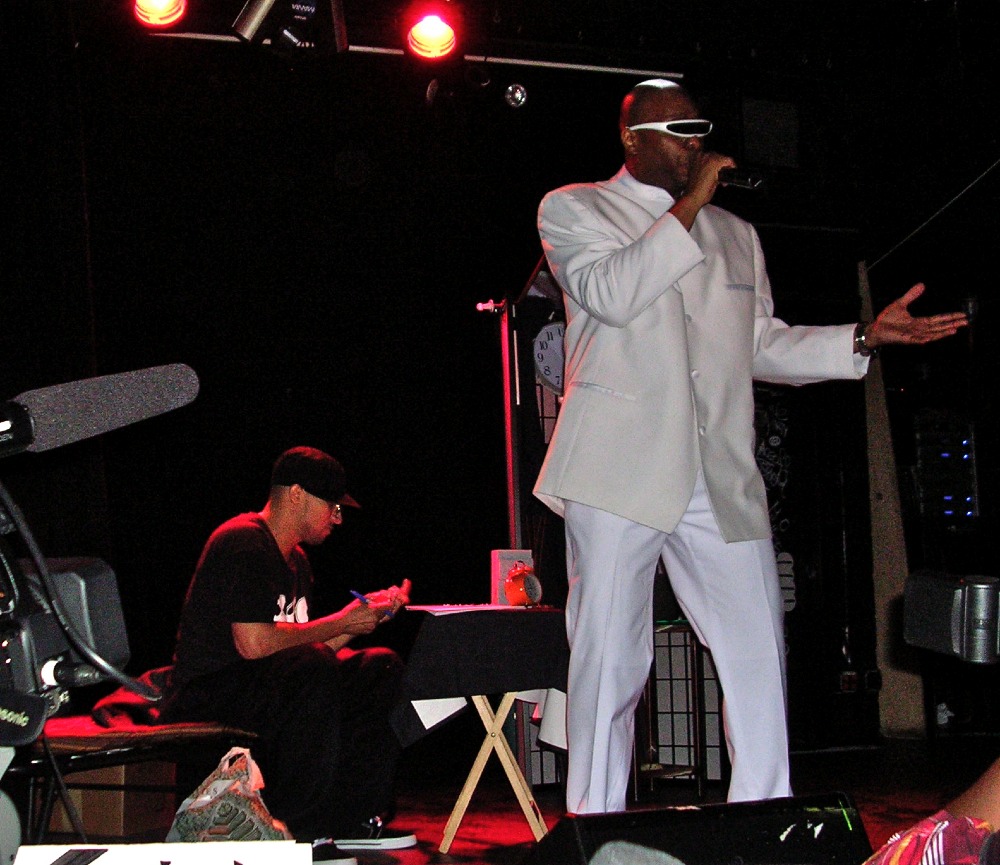 Travels With Adam B for August 18-19th, 2010
Author: Adam Bernard

I rarely plan on going to events on back to back nights, but it just so happened that it was unavoidable last week as Tah Phrum Duh Bush and Coole High had their dual album release party on Wednesday, and Foul Mouth Jerk and TopR were performing around the corner from me on Thursday. Both events were filled with some special moments and one even included some unexpected nudity. Here's what went down.
Wednesday, August 18th: As readers of RapReviews are now well aware, Tah Phrum Duh Bush and Coole High have been mainstays in New York City's underground hip-hop scene for quite a while. They've also been huge supporters of the scene, which is why it was no surprise that Future Insomniac, their dual album release party at Santos Party House on Lafayette St. (in NYC), started filling up early with advance ticket holders who were invited to a special pre-show VIP reception that included snacks, wine, and Coole High's famous pumpkin cognac cheesecake (which is unbelievably delicious and well worth the extra time on the treadmill it takes to work it off).
As more and more people streamed in it became a veritable who's who of the scene. Some folks I hadn't seen in over a year came out of the woodwork to support Tah and Coole. The artists in attendance included: Conscious, Kid Lucky, 3rd Party, Dyalekt, iLLspoKinN, Sleepwalkas, Bisco Smith, Super King Armor, Euphon, DJ M-Tri (who was manning the turntables for the show), CONCEPT, Core Rhythm, Mariella, Propaganda Anonymous, Mes One, Why G?, Jesse Abraham, Premonition, Chilly S, Homeboy Sandman, Willie Green, Mr. Beatz, DJ MilkMoney, Cypha Blak, and a host of others.
It was a fantastic crowd, and Tah and Coole put on a fantastic show in every sense of the word. The stage looked like it was set up for a play, and the props helped Tah bring his lyrics about his insomnia to life, while Coole's Futuristically Speaking vibe was shown through his outfit, which was a fresh white suit and crazy LeVar Burton, Star Trek The Next Generation, shades.
The duo alternated who was performing from song to song, so it wasn't just Tah doing a set and then Coole doing a set, it was a true combined set that kept the crowd entertained, and hyped, the entire way through. There were also guest appearances by Rabbi Darkside, Mariella, and Super King Armor during the show, and after Tah and Coole were finished over a dozen of the emcees in the crowd hit the stage for a wild freestyle session that was aided by Gaines, of Sleepwalkas, playing a hand drum, and Kid Lucky, along with various other beatboxers, providing something to rhyme over. It was a fitting tribute to see such a large crowd of artists supporting two men who have showed so much support for so long.
After the show we all went to the after party to Kenny's Castaway and the litany of high profile emcees who were in the crowd received some time to shine on the mic once again. I, however, had to leave the after party early so I could get home and get ready for the next evening. I left, however, with copies of Tah's Luminous Dark Alleys: The Insomniac works, which is both an album and a 100+ page book, and Coole's Futuristically Speaking, in hand. Since then both albums have been spun multiple times.
Thursday, August 19th: From one wild night to another. A well timed sugar free Red Bull (can I get a sponsorship? Holla at me!) had me ready to hit up the Acoustic Cafe in Bridgeport, CT, to see Foul Mouth Jerk and TopR, as well as one of my favorite CT emcees, The Rising Run Quest, perform. I had done a preview of the show for the Fairfield Weekly and was excited to see TopR and Foul Mouth Jerk together as TopR described their time on stage to me as "GG Allin meets LL Cool J, but with less fecal matter." Foul Mouth Jerk added that there's plenty of humor thrown in in-between songs.
Sketch Tha Cataclysm, and Dirt E. Dutch and Hawl Digg of Workforce, were in the crowd in full support of their fellow AFA member The Rising Sun Quest, who led off the show with a full set with DJ Mo Niklz on the turntables behind him. I've seen Quest a number of times, and I can honestly say that for as good as he's always been, his new material is head and shoulders above anything I've heard from him before and he's clearly at the top of his game right now. His concepts are at higher level, and lyrically he's spitting some of the most memorable lines I've ever heard him spit. The line "I don't wear skinny jeans when I rock shows / I'm a grown man, I don't dress in chick's clothes," clearly sticks out in my mind, and this was the one and only time I've heard the song that it's in.
When TopR and Foul Mouth Jerk hit the stage they gave the audience, which really started to fill the place up at this point, exactly what they said they would, a wild time with some humor thrown in. Their energy was incredible, and in-between songs they spoke with the audience and cracked jokes. TopR told one beautiful woman that he loved her dress, but added that even with that compliment he was still way out of her league.
The back and forth of TopR and Foul Mouth Jerk was fantastic. They never stepped on each other's toes and even though the crowd was a bit reserved for the first half of the show, as Connecticut hip-hop crowds are notorious for being, by the end of the duo's time on stage almost the entire place had gotten into the vibe they were providing. At one point both TopR and Foul Mouth Jerk started chanting "pop a titty out" and one drunk girl, who I immediately dubbed "local Snooki," didn't hesitate to jump on stage and do just that. With her left breast hanging out she danced, spilled beers, and became a large part of the end of the show. Two girls on the right hand side of the stage looked on in disgust, and TopR addressed them in-between songs, noting that he and Foul Mouth Jerk didn't bring local Snookie with them and that she wasn't actually a planned part of the show.
I learned that's the kind of wildness one can expect from a TopR and Foul Mouth Jerk show. An energetic set and the occasional titty popping out. (Big ups to Johnny Durkin for putting the show together). To say I was glad I made it out on back to back nights would be an understatement. Sometimes it's OK to miss sleep, especially if it means seeing great shows like these. The addition of local Snookie was just the cherry on top (although something tells me her "cherry" might not be in tact) of two fantastic nights.
(A quick side note: A lot of people want to have crazy stories to tell, and to those people I say remember, these kinds of shows aren't limited to just me. All you have to do is find a local venue that has a show scheduled and go. You can easily have your own crazy stories. Make it happen!)
---

Stay tuned to RapReviews.com for more Travels With Adam B. You can follow Adam's travels live on Twitter @AdamsWorldBlog and you can reach him at AdamB@RapReviews.com.

Originally posted: August 24, 2010
source: RapReviews.com