RapReviews.com Editorial - Jesal Padania: MTV's Top 10 Best UK MC's List
Author: Jesal 'Jay Soul' Padania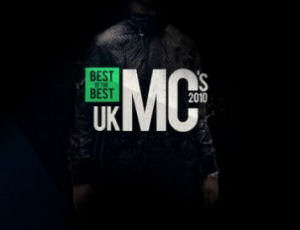 Sunday evening saw the release of a list compiled by a panel of music industry experts, attempting to determine who the "best" UK MC's of the past year were. It has sparked a certain amount of controversy – we can safely assume that part of this was intentional. However, a large chunk of the backlash has taken the MTV Base team by surprise, mainly thanks to the "original" list that was changed at the last minute, thanks to the behest of major record labels. If these reports are correct, it must be said that it serves up a damning indictment of pretty much everyone involved in the creation and delivery of this ranking. To put it in context, 40% of the list mysteriously changed at the last minute, suddenly including some more notable names such as Dizzee Rascal and Chipmunk, not to mention Lowkey. Now, of course these rankings are subjective – that is not the issue. What has seemingly riled so many observers (in particular, fans and rappers alike) is how MTV has appeared to have spread their legs wide open. Was it the panel themselves, or the producers? Even if it was the producers, why couldn't the panel stand up to them?
So you have a list. You debate over it. If you are clear-minded, and impartial, you include who you think has had the "best" year. MTV themselves have stated that, aside from MCing ability, they used criteria such as: Buzz, Impact, Acclaim and Swagger. Well, take the first four letters of those and you will get a clearer indication of what truly influences some industry folk. You see, this whole episode neatly highlights the murky underworld that embroils music lovers, critics and artists, subsequently turning them into industry tools. One can imagine that, upon hearing of the list, record label executives were falling over themselves to offer various deals to both MTV Base and the panel members. How Dizzee Rascal managed to climb from off the list to second-placed does beggar belief, so don't be surprised to see him release a ton of exclusive content to the channel in 2011. Similarly, Chipmunk has been pitted in tenth place, jointly with Lowkey – the MC that dissed him so vociferously in 2010 (another lowbrow MTV ratings ploy). Chipmunk and Dizzee didn't even release albums in the last 12 months, regardless of anything else (and you can't count "Deluxe" reissues).
"You scratch my back and I'll scratch yours" is the modern music industry motto. Bloggers and critics are particular targets for squeezing, but their roles are extremely different. You see, bloggers present information, highlight things they like, and very rarely give anything akin to a commentary/editorial on it. Critics should always be wary of getting overfriendly with an artist, as it muddies the water between the two. Of course, without artists, critics would have nothing to write about – any self-respecting music critic would surely admit that their role is limited to what is presented before them. But whilst bloggers are fans with influence/voice, critics should be able to dissect the music without attachment. It's like surgery: messy yet precise; technical yet using gut instinct. And surgeons are notoriously wary of getting "too close" to the patient, as it can impair their judgement during the operation. It shouldn't, but it does. It's the same when attempting to appraise an album. If you get too close to the artist, and form some sort of close personal bond, how are you going to feel when their next album is absolutely rubbish? Will you be able to pull the trigger?
As far as the list goes, of course we should take it with a pinch of salt. But the problem with changing things so drastically, at the very last minute, is that is completely undermines the whole point of it. Credibility is an essential ingredient when trying to appraise music, and the panel themselves must be stung by how brutal the backlash has been. Whilst I won't attempt to rank the MC's, various weaknesses within the panel must be addressed. It is well documented that many of them have close relationships with most of the MC's considered for the list, but next time you read Joseph 'JP' Patterson heaping praise on an MC, you're going to think twice about whether he rationally means it or not. Even when a more respected journalist, like Chantelle Fiddy, gives a stunning review of an MC in one publication, and she has just interviewed that same MC for another magazine, you'd be forgiven for giving wondering whether the interview subconsciously influenced the review or not. When Charlie Sloth next wants to interview Ghetts, who went insane with rage at being left off the list, will you detect a hint of guilt in Sloth's voice, and would he play a Ghetts track he's not feeling, just to make up for it? If Ghetts criticises MTV or members of the BBC, will they get emotional and blacklist him?
We are all human, make mistakes and are victim to the mercies of emotion. Most of us want to be liked, of course, and when you 're a fan of rap music, idolising MC's all your life, and get a chance to be around them, not to mention hold any kind of influence, temptation will arise. But it takes backbone to cut straight through to the heart of the matter, the "truth" that you genuinely interpret reveals what an album or artist is about. The moment you waiver, give in to temptation, give a 7.0 instead of a 5.0 just because you know that person well, you are doing nobody except the moneymen any favours. Not you, not the artist and certainly not the fans that may actually revere your esteemed opinion. Would I love to share a vegan sandwich with Common next week? Sure. That doesn't mean that I wouldn't stand by my review of the shockingly bad "Universal Mind Control" review I wrote. If Akala rang me up and invited me over for a Sunday lunch, great. "Freedom Lasso" was still a terrible, terrible album and I'd stand by my (admittedly below the belt) review. Just as a music critic can lambast an album, they should also be able to value when an artist has done a great job, irrespective of how bad the last LP was. Of course, most people are just trying to make a name for themselves, whether it is the artists, the panel or the producers. Hey, we're all on the train, trying to make a living from an industry that provides such little opportunity for earnings. But all is fair in love, war and being a rap critic. You just have to remember that you're not representing the artist or the fans: however ethereally ridiculous it sounds, you are representing music, so hold your nerve and fight your corner.
Originally posted: February 22, 2011
source: RapReviews.com