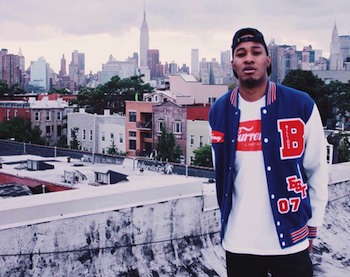 Bryant Dope Interview - Pt. 1
Author: Adam Bernard

There are many people in hip-hop who fear for the future of the culture. They hear playlists that rely heavily on negativity, and ignore anything of intelligence. They see young artists creating dances, rather than creating movements. For these people I say, Bryant Dope is here to save the day.
Perhaps a superhero analogy is a bit much to live up to, but the 21 year old Queens, NY, native will certainly seem like one to anyone who's been searching for a young emcee who has something to say.
His music, much of which is available for free on his Soundcloud page, gives listeners a view into what's on the mind of a generation, and with his next EP, Raw Dope 2, due out later this fall, RapReviews caught up with Bryant Dope to find out more about who he is, the music he makes, and his long term goals.
---
Adam Bernard: You are preparing to release Raw Dope 2, the sequel to your free EP, Raw Dope. When I listen to Raw Dope I hear an emcee who not only has something to say, but there's a combination of anger, and disappointment in your voice. Where does that anger and disappointment come from?

Bryant Dope: Basically, the basis of Raw Dope is I wanted to find the rawest emotions within myself, and at the time I was feeling a lot of frustration. I wanted that to come out in the music. I was at a turning point in my career because I was just about to graduate from college and I was trying to figure out the next move, because I was trying to stay in the independent route.

I wanted each song to have its own emotional purpose. The intro, I'm talking about different topics, I'm talking about personal problems, I'm talking about world problems, I'm talking about social problems, then I dive into a more personal track with "Reminisce."

For Raw Dope 2, the basis of the idea is the raw emotion, but I'm just taking it to another level. There are gonna be way more tracks, and it's gonna be kind of a different feel. It's going to be more smooth than Raw Dope. Raw Dope was more in a place of frustration and anger, and I wanted that to come across with the sound that Mark.R, who produced most of the project, I wanted him to take those angry, hard, beats and sounds, so when we came together it would be cohesive. Raw Dope 2 is a little bit different. I'm working with a whole bunch of different producers. Right now I have 20 tracks, but I'm gonna work 'em down to ten or 12, and I'm gonna probably have a different producer for each beat, because I want to give a new sound on each song on Raw Dope 2.

AB: That's a lot of tracks to whittle down since, from what I understand, you're going to be releasing the album pretty soon.

BD: I was planning to release it October 22nd, but it's probably going to be the first, or second, week of November. I was wrapping up the project about three weeks ago and this producer hit me up with five new beats, and I ended up writing to all five of them within a three day span, and I went to the studio on the fourth day, so I had five new songs that were all great, so me and my engineer had to sit down, and mix those down, and make them perfect.

I want it to come out as soon as possible, but I also want I to be the best product possible. I want to give out the best of what I have, because I have a lot of great songs, but I want to make sure the songs that I choose, I want them to be the greatest ones.

AB: You mentioned that for the first Raw Dope EP the emotions came from getting ready to graduate from college, and entering the quote-unquote real world. What was going on in your life that inspired the content of Raw Dope 2?

BD: I was signed to Young One Records, which is a small label in Brooklyn, NY, and about two, three, months ago I decided to go my separate way, because I wanted to be 100% independent, and I wanted to find a new route. I just needed something new, and I wanted to find out a way to do it by myself, so I left the label, and basically I was trying to fund everything myself, and take care of everything myself. I'm 21, so at a time when everything is changing in your life it's a lot of weight on your shoulders, especially when you're a creative, and all you want to do is express creatively, and not have to worry about business, but I take pride in taking care of everything because at the end of the day this is something I want to last for a lifetime, so I want to have my hands on everything that I do. So right now is basically just me being hands on with everything that I'm doing, and making sure that the product is as good as possible, because at the end of the day I'm just worried about the music.

AB: You have been incredibly busy in-between Raw Dope and Raw Dope 2. Tell me about New New York, and #RawDopeWednesdays

BD: New New York was a collaborative project with me and (producer) Hannibal King. We actually went to college together. I met him my freshman year. We went to SUNY Purchase in upstate New York. I was a freshman, but I was a kid that was never on campus because I was driving back and forth from Queens trying to do shows, and go to the studio, so I was moving all over the place. I heard he did a few songs with a couple people I really enjoyed, and I was trying to get him to send me tracks. He sent me "Queens Kids," and we put this song out, and the video was well received, so I was like, "Let's do a whole project together." I went to his crib in south side Jamaica, Queens, and we just sat down and built the project from the ground up, chose the beats and everything. It came out really great. That's one of my favorite projects that we did.

Raw Dope Wednesdays was basically me working from Raw Dope 1 to Raw Dope 2. I could say I have 20 songs to choose from now, but if you count all the Raw Dope Wednesdays songs, that's like 29, 30, songs.

Basically, from Raw Dope 1, which came out in December or January, I was continuously working on music, and I got to mid-July, when me and the label went our separate ways, and I was like, I have all this music. I had a meeting with somebody that I really respect in the industry, he's like an OG, I won't put his name out there. I was playing him new music, and he was like, "You have all this new music, why don't you just put it out?" I was like, "You know what, that's a great idea," so what me and my manager decided to do was come up with Raw Dope Wednesdays, where we released a new song every week for nine weeks.

I didn't want big publications to carry it, or (for it to) be a big thing every week. I just wanted to go on my Soundcloud, and tweet it out, so the fans could have it. I wanted it to be something between me and the fans so they could have something new to listen to every week, and have a new vibe from me every week. Every week I wanted to give a different feel of what I was going through, or where I was taking the music, so now when I announce I'm coming out with Raw Dope 2 they already have nine songs they can play back and be like, "I wonder what he's gonna do next," and to come out with a whole 10-12 new tracks a month later, it just shows people how serious I'm taking it, and how persistent I am when it comes to this music. I work nonstop. I write every single day, and I work to make music better, because all I want to do is be the best artist I can be.

AB: At any point during that whole time did you think, "Man, I'm giving away a lot of music for free?"

BD: My manager, at a point, was like, "Yo, bro, you're releasing so many songs," but I was just like, at the end of the day it doesn't matter to me, because I make music so someone else can feel it. Most of my music comes from an emotional place. I try to dig in depth with the emotion I'm trying to express, so I feel like if anybody in the world is going through that same emotion at the same time, they need this music, they need it. Even if they don't listen to it now, they (can) come back to it a month from now. I just need it to be out in the world.

I know a lot of artists hold on to their music, "I can't release this. I don't know about this." I'm not like that at all. I want people to hear it. I want people to see my ups and downs, and where I go. I want people to see how authentic I am as a person. I'm willing to fail, I'm willing to succeed, and either way I'm happy with what I'm doing because I'm just an artist who's creating art, and I just want people to feel it.

Continue to part 2 of this interview, which features Bryant Dope discussing his history, what hip-hop's missing, and where he'd like it to go next.
---

Follow Bryant Dope on Twitter @BryantDope and check his music out at Soundcloud.com/TheDopeMusic.
Follow the site @RapReviews!

Originally posted: October 7th, 2014
Source: RapReviews.com