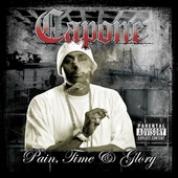 Capone Interview
Author: Adam Bernard

Not a lot of rap artists can pull off having an opera singer doing a hook for them, and even fewer would seek one out. That's exactly what Capone did for his solo album's lead single, "Soldier Story (Who Am I?)." "When I listen for beats and stuff I listen for something that someone else with a hot record out is lacking," explains Capone, who continued "Heatmakerz produced the track and Opera Steve is one of their artists. I told 'em I needed someone singing my name and I wanted it different then just a DJ cutting my name on the track. They brought Opera Steve to my attention."
Capone's album, "Pain, Time & Glory," is on Koch Records, the latest landing point in a recording career defined by fluctuation. As a part of CNN, which Capone says is still definitely intact, Capone's been on Penalty, Tommy Boy and Def Jam. Def Jam was where he thought he had found his permanent home, but a shooting he was associated with at a local radio station would prove to be his undoing there. "They were supposed to lead off with the solo album then the unexpected occurred, the Hot97 incident. That got me banned. Just allowing the incident to go down, they know I didn't shoot no gun. It's not like the police got involved in my end. Just the fact that my people and Kim's people got involved in a situation, but we both got banned."
From label troubles to legal troubles, Capone feels he's weathered his fair share of industry insanity and "Pain, Time & Glory" covers many of those feelings. Capone says of his solo debut, "I don't spit a lot of punch lines, I just give it to you real. I just feel people are really going to respect this album and where I'm coming from. Everyone basically kicks the same thing so it's how you put it and what makes your situation different from everybody else. I put some real stuff in there and people can remember when I was going through that."
One situation most people remember is the recent shooting death of Akon's road manager while he was hanging out with Capone. "That situation was unfortunate," Capone laments "because if we could have took a second to think about what we were doing we could have prevented it. Whoever was behind that pistol if he had taken a second to think everything could have been resolved. It happened and my heart goes out to his family and everyone who's was affected. It affects me every day. Akon is like my brother from another mother, we met and we clicked off top and I think sometimes it takes an angel to leave us to bring two people together. I just look at it like I wish we could have avoided it and I'm here for his whole family his whole team and akon, and I try to keep myself out of stations like that."
The reporting of the shooting had its fair share of inaccuracies according to Capone. "They got it out like the dude was trying to rob me but it wasn't like that. I don't want people to think they shouldn't wear jewelry. Just think about things before you do them, you can go to jail for the rest of your life or you could die. Think before you react. That split second before you think can determine the rest of your life."
As if that situation wasn't enough weight for one's mind to handle, the aftermath of the Lil' Kim incident at Hot97 won't seem to go away either as Capone was made to speak about it recently in court. Capone notes "there's nothing I said in court, or anybody else, that made them find her guilty. It was plain and so conspicuous. It wasn't right. They just used us as scapegoats to make it more of a media fiasco. They got what they wanted."
With his mind on his music Capone is gearing up for his solo joint to drop. "CNN has always been there," he explains "even with NORE doing solo work. It's just my time to branch off and show people I am an artist. He did his thing solo-wise now it's my turn."
Capone also has a message for Koch records, letting them know that if all goes well with his solo album CNN could make the jump to Koch, as well. "If they do right by my solo album I would love to bring CNN over there," he says confidently. Confidence is something Capone doesn't lack. With his numerous, well documented, incidents now behind him, Capone has managed to stay focused enough to create and release "Pain, Time & Glory." He's already been through the "Pain" and "Time" aspects of the title, all that's left is to enjoy the "Glory."
---
Originally posted: September 6, 2005
source: RapReviews.com