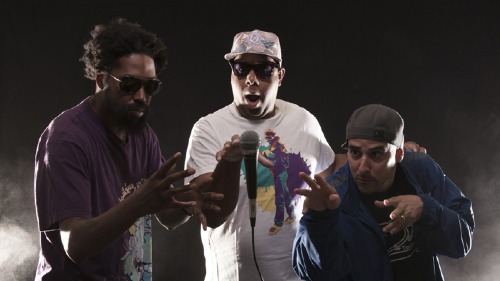 Sleepwalkas Interview
Author: Adam Bernard

If you've been anywhere near New York City's underground hip-hop scene in the past decade and don't know who Sleepwalkas are... you're sleepin. The now trio of K. Gaines, Ciph Diggy and DJ M-Tri (pictured Left to Right) have made it a point to be at nearly every show, either on the stage, or in the crowd, that's in the city. Their latest album is titled Cookie Cutter Cornballs Can't Cut It, or the 5 C's for short, and it features a a guest list, from Sadat X to Homeboy Sandman, that exemplifies how much respect the group has in NYC. While their scene is an impressive one, Sleepwalkas are primed and ready to sleepwalk past New York City's borders and bring their music to the rest of the nation, and the world. This week RapReviews caught up with all three members to find out more about the group, the 5 C's, and why they still prefer face to face networking over the networking of the online variety.
---
Adam Bernard: First and foremost, for those who may not know, you've had an addition to the Sleepwalkas roster. Who's officially a Sleepwalka now?

Ciph Diggy: DJ M-Tri!

DJ M-Tri: They forced me, man, they forced me!

K. Gaines: We were walkin down the block and this guy kept following us like "yo, Sleepwalkas, I really like your music. I want to DJ. I got this scratch that go 'Ah!'" We were like aiight. We put him down. Nah, M-Tri is cool people. We needed that addition to the team and he was the perfect piece to the puzzle.

AB: Was there a hazing process and is it still going on?

KG: It's gonna go on forever. Me and Ciph still haze each other. It's like constant hazing.

CD: He's never supposed to have direct eye contact with us.

AB: If that's the worst you're doing alright. I've heard some stories about fraternities and sororities.

KG: He has to call us big brother almighty sometimes, and stuff like that, but that's all good.

AB: Tell everyone about the 5 C's.

CD: Cookie Cutter Cornballs Can't Cut It. It's a call out about how everybody's ready for original music. The wack, the copycat, non-inventive, non-original does not exist anymore.

AB: It's been a while since the world has heard a group release from you guys. Why did it take so long to make this album? Wasn't it originally due out in 2009?

KG: Just putting the touches on it, making sure we got it together, bring it out the best way possible. Making sure we give a complete offering of good, organic, music.

AB: No horror stories?

CD: It was just getting the product. When you met us we were constantly in the night scene, doing shows and being seen and getting our name known. (Because of) that, a lot of times we took a little longer to get all the work together. Then finding M-Tri, that was the next trifecta, so we had to arrange everything and make sure M-Tri was on this album also.

AB: Did any tracks have to be redone with M-Tri?

CD: There were some tracks where M-Tri just had to put his little touch on there.

MT: Yeah, there were a couple that we created together that were added on to the album and some stuff, like Ciph said, that I just added on a little something to here and there.

AB: For those who haven't heard your work before, what kind of an introduction is Cookie Cutter Cornballs Can't Cut It?

KG: It's basically a smorgasbord of good music and of people that we respect and we enjoy. It's showing the world that these guys are dope emcees, but at the same time it's organic, fun music. It's not like we gotta try to be what we aren't. Most of the music is who we are as far as personality-wise and it really reflects through the songs that we do. We worked with people from Sadat X, to (Homeboy) Sandman, to Fresh (Daily), to PSO, to Cavalier.

AB: Who else did you work with and how'd you put all that together?

KG: Like Ciph said, we were out there in that night night. We were going to all the shows. We were going to all the spots and meeting these people. We've alway had relationships with them, but from rocking so many shows and doing what we do we started to build relationships. Once we did that we stepped to people like 2 Hungry Bros and it became more of like a family than yo, I see this emcee every once in a while. We came to the point where it was like hey, I really dig what you guys are doing as far as your music, let's collaborate, let's do something, let's see where we can blend and what we can bring out together, and those collaborations blossomed into Cookie Cutter Cornballs Can't Cut It.

AB: So many people talk about networking but don't know how to do it. When you look at the 5 C's project what does it say to you about networking in person versus social networking online?

CD: The originality, the one on one you get, the chemistry you get... you could do it online, but it's not really a meet and greet. We've developed relationships because we've seen (artists), we've had gigs with them, we know their chemistry, we've had chemistry with them. Also, you know how this night scene is, there are a lot of open mics where there's a lot of freestyle, a lot of organic (music). You just build a real strong network face to face.

AB: So it's really worth losing sleep over.

KG: Yeah, I would say so. It's very tiring to get to this point, to get this album out, but seeing the fruits of our labor, to see the love that we received at the album release (party), to see the love we're still receiving, even through social media, people are giving it good reviews, it's definitely worth losing that sleep.

MT: We don't need sleep. We're the Sleepwalkas.

AB: How is this release different the Ciph Diggy 2010 solo album, Untitled Wave?

KG: Ciph Diggy's, I think it was more of his personal journey that we wanted to take. As far as 5 C's, it's like the mind melding of the three of us coming together saying listen, this is what we're gonna put out as a project. We did a song together on Ciph's joint, but it was more his vision of where he wanted to take his music.

AB: Ciph Diggy and K. Gaines, you are both big personalities on and off the mic. Take a minute to tell everyone about your partner in rhyme–the good, the bad and the ugly!

CD: OK. He's ugly, as you can see. I'm good, and if he crosses me that's bad. Nah. K. Gaines is a product of the night scene. He is the actual limelight. He is the actual social media that you see on the streets. He really is a Sleepwalka. I have not yet seen him really sleep.

KG: The three of us, we all got faults to a fault, but because we believe in each other and we know and understand each other, we always bring the good out in each other, so we have our ugly moments, but the world will never see that. That's between what we go through in order to give people greatness like the 5 C's. I think that's what we bring to the table. We give each other a very good balance of checks and balances to make sure that we're all on the same page and to make sure that we're moving forward as a team instead of just being wanting and ego and all of that.

AB: And you don't sleep. Sounds like Tah Phrum Duh Bush should also be in the group.

MT: He's one of the cousins. We relate.

AB: You've been around the scene for quite a while now. Who do you feel has more than paid there dues and should be in the national limelight?

KG: Number one should probably be Homeboy (Sandman). He should definitely be at the top with what he's doing.

MT: iLLspoKinN, definitely.

AB: I think he'll be there pretty soon with that Rebel Ship project.

MT: Yeah, that's a real hot project they're doing.

KG: A lot of the people on the album I think should be closer to the forefront, they should be getting more recognition for what they do, because they all bring great music to the table, that's why we're working with them.

MT: 3rd Party also - Rabbi D, Hired Gun, Farbeon

CD: I could say basically everybody in the NYC underground scene that we've known and you know. They can hold their own.

AB: Would you say our scene is a good proving ground?

KG: Definitely. To me I think we have a new type of renaissance. A lot of people don't know about this scene. We have some great musicians, great hip-hop musicians, coming out of the tri-state area. These guys are working towards not just saying "I'm an emcee and I need to be the rapper because I'm from New York, New Jersey, or Connecticut," but they're actually working on their craft. This is like the proving ground. You can't just come and think you're gonna get away with nonsense because we're gonna call you on your bullshit immediately, cuz we work hard for what we do as far as everybody that's on the circuit. That's what I call it, the circuit. These guys put a lot of effort into what they do and it shows.

AB: Finally, leave everyone with one final word, or idea, about Sleepwalkas that you hope they take with them after they read this interview.

CD: We're really sculpting the music that you have as a soundtrack.

KG: Your life is what we're making.

MT: It's all about making good music and letting people have fun with it. Don't take life so seriously, and it's OK to be yourself.

KG: Dopeness. That's what I say. Super steroid dope.
---

Be sure to check out Sleepwalkas on the web at sleepwalkas.com and follow Adam on Twitter @AdamsWorldBlog!

Originally posted: May 24th, 2011
source: RapReviews.com