The Year 2013 in Review
Author: Matt Jost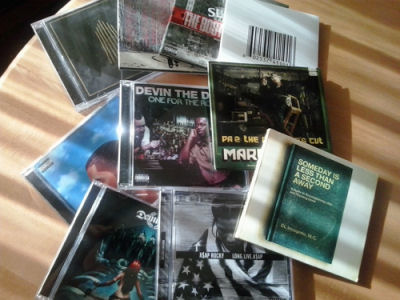 I have to start this off by raising a middle finger to Uncle Sam for grossly abusing the technological possibilities of the digital world. Ditto for all the companies that not only made themselves complict with the NSA but continue to invade our privacy with their own commercial snooping and spying. You're working on a future George Orwell couldn't have imagined. More than ever we need individuals who throw a wench in the works, characters who subvert any and all expectations, incorruptible, righteous men and women. Thank you Nelson Mandela.
With that off my chest, let's get to rap matters. At the risk of repeating myself, what you find below is simply a list of - American - rap records that I felt positively about in 2013, nothing more, nothing less. There are many more I might have felt similarly about but haven't had the chance to hear. And there are those that deservedly didn't make the list. It's got enough "cracker rappers" (Apathy) to last Lord Jamar a week of Twitter commotion and it omits "The Gifted," so I'm expecting Wale's call anytime now. There's kings and kingpins, gods and sinners, directors and actors, ugly heroes and pretty mofos - and even Canadians, but really they're just rappers and producers doing a fine job.
Matt's Out-of-Competition Rap Record of 2013:
Macklemore & Ryan Lewis - "The Heist"
Technically "The Heist" is a 2012 release. For, well, technical reasons I didn't catch up with it until January 2013. But once I got my hands on it (the CD, that is) and transferred it to my portable player (in MP3, of course), I knew I was listening to one of the darn best and most important rap albums of the past few years, regardless of its exact drop date. Rapper Macklemore and producer Ryan Lewis manage to create music that speaks to the mind and the heart, to the everyday music consumer with taste and the hip-hop head. I see myself in the latter category, and I've found that in recent years I preferred rap that combines the new with the old, and in that regard Macklemore is as much Sir Mix-A-Lot as he is Kendrick Lamar. The duo's massive success that continued throughout 2013 creates an interesting challenge for the follow-up, but there's little doubt that they will meet that challenge head-on.
13 FOR '13
13) Demigodz - "KILLmatic"
Any rap crew worth its salt needs a convincing group effort to solidify its status. Before "KILLmatic," it was hard to tell if the Demigodz were more than a loose collective from yesteryear that never managed to pull itself together for a larger project. But once Apathy and Celph Titled (finally) got their solo careers in gear, the lane was wide open for a DGZ full-length. Ap and Celph combine for one of rap music's most vicious one-two punches, and when you add microphone marauders like Ryu, Motive, Blacastan and Esoteric, you got yourself a wild horde of rapper dudes with complete disregard for the sensitive creature that rap has evolved into beyond the moat of their castle. The only feelings these guys examine are the ones they hurt. Yes the Demigodz hit you over the head, but there's also a good chance they go over some people's heads with their elevated methods of putting and taking opponents down.
12) Slaine - "The Boston Project"
From my April review:
"The Boston Project" in general is a lyrically and musically dense affair. Slaine makes for a formidable tour guide, relying on his own experience but also knowing that, as he puts it at one point, "I speak for more of us." That he managed to get so many Boston MC's on the same record (over 30) is highly honorable, but the most astonishing thing about "The Boston Project" may just be that one producer is able to provide so many different quality tracks. Lu Balz is his name, and his familiarity with time-tested templates results in a soundtrack that covers a variety of hip-hop terrains competently, from Shady Records-era epic bangers to soul-sparkling underground gems to advances into contemporary acoustics. In his brief history 'Hip-Hop in the Hub: How Boston Rap Remained Underground', Pacey C. Foster writes: "To tell the story of Boston hip-hop without addressing its underdog status would be to ignore an important identity within the community." Proud and painful, "The Boston Project" celebrates that underdog status without a hint of hating towards the inattentive mainstream. Beantown rap is simply different, and it feels quite okay that way.
11) Marco Polo - "Port Authority 2: The Director's Cut"
In the back of my mind there's the notion that only single-act full-lengths are allowed into deliberations about albums that represent the best rap has to offer. But after too many 'albums that sound like a compilation' (a phenomenon L.L. Cool J nailed as early as 1989), I should so know better. Marco Polo has matured into a full-fledged producer who does much more than just beats. He earns all those songwriting credits on his latest, scoring songs for all seasons, including Organized Konfusion reunions, Guru tributes, parenting advice, trash-talking, credible Rap&B joints and lineups of legends. There are just really a lot of individual gems on "Port Authority 2" that succeed on their own. While he represents an older - not necessarily superior - school of hip-hop production/beatmaking, MP's music and this project in particular are cut from a more durable cloth than most other contemporary releases (including a 2013 L.L. Cool J compilation, excuse me, album called "Authentic"...).
10) Run the Jewels - "Run the Jewels"
If you told me there are too many old rappers on my year-end list - and that it fails to include Danny Brown's acclaimed "Old" to boot -, I'd totally agree. But get this - this pick is for all those rap fossils relying on their little fanbase and even managing to disappoint them, not to mention their inability to tap into new audiences. El-P and Killer Mike simply tapped into their formative years in hip-hop, the later 1980s, and came up with a fresh, articulate and uncompromising record that put them on the road, adding an extended honeymoon to last year's "R.A.P. Music" wedding. To continue the metaphor: If the bride (El-P) was silent through much of her happiest day, "Run the Jewels" shows just how much the couple really has in common. Some Bonnie and Clyde shit, straight up. (End of metaphor.)
9) A$AP Rocky - "Long.Live.A$AP"
A$AP Rocky was early to the party with "Long.Live.A$AP" dropping in January, but his car model is still among the latest a year later. The release was badly represented by the 'star-studded' single "F**kin' Problems." Thankfully major label interference wasn't as drastic as this trainwreck of a track might have you believe. But it is noticeable nevertheless, and it results in a slightly schizophrenic offering as Rocky every now and then deviates from his winning "Live.Love.A$AP" formula. Still the A$AP aesthetic remained largely intact, this still being some of the most original rap music in recent years. Rakim Mayers, we sometimes forget, is not just a brand and an idol, he's also an exceptionally talented MC who creates his very own world with his words. We assured "Long.Live.A$AP" would be 'one of the most listenable albums you will hear this year', and 12 months later that prediction has proven true.
8) Drake - "Nothing Was the Same"
I never got into Drake. In fact if I had to put a face to the lack of authenticity in today's rap scene, it'd be his detatched expression. After rubbing me wrong for most of his career, though, he suddenly, somehow had me with this intelligently argued, worded and rapped piece of music (reminding me of Common at certain points.) I couldn't tell you how it exactly fits into his catalogue, but I certainly appreciate the increased rap ratio and the arrangement of the entire thing strikes me as nothing short of stunning. Typically I have trouble relating to big name rappers, and if you had brought up Drake's name before I heard this one I would have gone off about how his approach is so transparent, his demeanor so trained, but here he's actually able to pull me in, to make me understand. I guess I'm still on the fence about this guy who once was a teenage actor in Canada, but if he continues to make emotionally credible music, he'll have my attention.
7) DL Incognito - "Someday Is Less Than a Second Away"
DL Incognito's - diligently designed - 5th album is subtitled 'A Guide to Accomplishing Little and Rhyming Great.' I once had the pleasure of covering DL's 1st album, with a review I myself might characterize as great writing that accomplished little, so I certainly know what the Canadian is getting at. Even moreso as regardless of any possibly great rhyming on his and great writing on my part, I actually missed out on 3 DL Incognito albums in between. This year my interest in Incognito was renewed, last but not least because I was intrigued by the actual album title, "Someday Is Less Than a Second Away." I was rewarded with a soulful, superbly orchestrated, mature but still youthfully enthusiastic and just generally endearing album about hip-hop and a handful of other things that may matter. DL Incognito may not be a master rapper, but he has undoubtedly mastered rap music.
6) Asheru - "Sleepless in Soweto"
When dealing with this genre of ours you just keep coming back to the fundamentals. Sometime in 2013 I wrote: 'There's a certain category of rappers that makes me wonder what their exact purpose is. I usually gravitate towards MC's with a distinct profile, peculiar angle, particular message, just something tangible that helps me understand why that person decided to get on the mic and demand my attention.' On "Sleepless in Soweto" Asheru answers these questions to my utmost satisfaction. He leaves no doubt about his intent and purpose, crafting a personal album with a global vision, full of food for thought and rap bravado set to smooth and funky beats. As I said, the fundamentals.
5) Big K.R.I.T. - "King Remembered In Time"
Know what Big K.R.I.T.'s problem is? He's been spoiling us. Embodying the saying 'The best things in life are free' with prized giveaways, he failed to live up to the sky-high expectations with his official 2012 debut. Redemption came without fail this year with another free release. No need to go as far as saying "King Remembered In Time" is the album "Live From the Underground" should have been, it's simply vintage K.R.I.T., a generous platter of 'Soul Food' - both in the figurative and in the literal Goodie Mob sense -, cooked up by just this one guy handling not simply technical duties but also a heeding a greater call. A number of southern rappers can lay legitimate claim to the title of king, but regardless of those various reigns, Justin Scott gives it his all that he will be remembered as such.
4) Ugly Heroes - "Ugly Heroes"
For the longest I suspected producer Apollo Brown of peddling his samey beats to any project coming his way, but I'm starting to realize that his aim is to create original quality music. The self-titled debut by the group he forms with two indie rappers is a meticulously crafted concept album about the everyday man (and MC) trying to make ends meet. It's perhaps no coincidence that Verbal Kent and Red Pill hail from Chicago and Detroit, two cities that have been in the spotlight both of economists and rap enthusiasts, because as we know, bad economic conditions usually make for good hip-hop. This could have easily been another accidental collabo, instead you get an in every respect honest effort from three hard-working hip-hop musicians. It makes for a labor of love with a noticeable laborious bent, but give it some time because it's a grower.
3) Pusha T - "My Name Is My Name"
Pusha T was responsible for my most exciting listening experience of 2013. "My Name Is My Name" remains a contentious album I simply can't make up my mind about. The wordplay and punchline count is lower than usual, it has too many tracks that feel unfinished, and it generally lacks the focus great rap albums are made of. And yet Pusha, by virtue of his almost demonic presence, gives the kind of inspired performance that rap these days sorely lacks and delivers the type of thrill only morally ambiguous art can provide, by far surpassing his mixtape test series that included "Fear of God" and "Wrath of Caine." The high-profile guests are nothing more than extras, nameless and faceless voices fading in and out during what is clearly his show. What made the album additionally interesting to me was the fact that his really and truly god-fearing brother No Malice released his own solo project not long after, in some ways revealing that which "MNIMN" is missing. Either way King Push had the best beats of any major release and put out what might very well the best solo project we'll ever get from him.
2) Devin the Dude - "One For the Road"
We already know Devin is one of the deepest dudes in rap. But the way he opens his latest with five songs full of profound sentiments is still highly remarkable for a rap album. Sceptics may want to dismiss these rhymes as plain barfly philosophies. But the most basic gestures are often the most touching ones. Despite the simple and humble approach there's a grandeur to Devin's music that is usually reserved for other genres. Within the deeply human vibe of his work even animalistic impulses lead to songs that inspire good-natured, knowing chuckles. The fact that "One For the Road" is missing the exceptional song material of some of his previous releases is made up for by the melancholic but infallibly soothing mood it captures.
1) J. Cole - "Born Sinner"
Couple seasons ago you'd find me bemoaning the fact that the subsection of intelligent, sensible rappers went from being socially conscious to being mostly self-conscious. It's not easy for J. Cole's generation in today's market where ambitious rappers are expected to bare their souls and remain aloof at the same time. Cole is still coming to terms with his career as he hopes to reconcile both sides, to not just be another 'black star,' but also "a Black Star - Mos Def, Kweli" (a claim he formulates with more conviction than Jay-Z once). Operating with an encompassing definition of 'conscious,' he literally raps in a stream of consciousness, his lyrics often switching their focus between personal and universal. He does this across a really well composed - remarkably again self-produced - album that dares leave room for the raps. People have accused J. Cole of playing it safe. That's not what "Born Sinner" sounds like to me. He plays to win, but he also plays fair. Figure that one out.
Originally posted: January 8, 2013
source: RapReviews.com